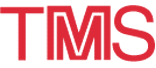 2000 TMS Annual Meeting: Exhibitor
---
March 12-16 · 2000 TMS ANNUAL MEETING · Nashville, Tennessee
---

KLUWER ACADEMIC PUBLISHERS

Booth #844

Norwell, Maine

---
Visit KLUWER ACADEMIC/PLENUM PUBLISHERS Booth No. 844 to browse the latest books and journals in Materials Science. Included are:
Peters/Handbook of Composites, Second Edition
Marshall/Encyclopedia of Geochemistry
Sheppard/Extrusion of Aluminum Alloys
Nicholas/Joining Processes
Kaye/Powder Mixing
Hussey/Light Alloys Directory and Databook
Kluwer Academic / Plenum Publishers offers these titles as well as an extensive list of others.

---