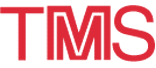 2000 TMS Annual Meeting: Exhibitor
---
March 12-16 · 2000 TMS ANNUAL MEETING · Nashville, Tennessee
Murlin Chemical, Inc. manufactures both natural and synthetic bone ash at its plant in West Conshohocken, PA, U.S.A.. These products are supplied to the world wide non-ferrous metals industry.

Bone ash is accepted by the non-ferrous metal industry as the premier release agent. Application of bone ash to a mold, a refractory trough, a surface, or a tool, which will be exposed to molten metal, provides a consistent barrier against attack by the molten metal. Quick easy release of a casting or any solid metal that may cling to the exposed surface is a major benefit.

Plan to visit booth 842 to learn more about the advantages gained by using bone ash.

You may contact us any time at (phone) 610-825-1165, (fax) 610-825-8659, e-mail at general@murlinchemical.com or visit our web page at www.murlinchemical.com.

---