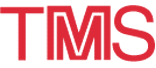 2001 TMS Annual Meeting: Car Rental Information
---
February 11–15 · 2001 TMS ANNUAL MEETING · New Orleans, Louisiana



During the week of February 11–15, 2001, at the 130th Annual Meeting & Exhibition of The Minerals, Metals & Materials Society (TMS), you can join more than 4,000 science and engineering professionals, representing more than 70 different countries, who will come together for the opportunity to add to their own store of knowledge by capitalizing on the expertise and experience of their colleagues. More than 200 sessions and 1,000 individual presentations are scheduled. Whether your technical interests lie in precious metal extraction, aluminum processing, high-temperature superconductors, or just about any other materials field or metallurgical discipline, you will find programming that addresses your most pressing needs.

The 2001 TMS Annual Meeting & Exhibition will take place in New Orleans, Louisiana. The Hilton New Orleans Riverside Hotel will be the headquarters hotel for the event. All conference events, including registration, technical sessions, and the exhibition will take place at the Ernest N. Morial Convention Center.

Has been selected as the official car rental company for the 2001 TMS Annual Meeting, February 11–15, 2001, in New Orleans, Louisiana.

Meeting rates listed below, with free unlimited mileage, are guaranteed one week before, through one week after, the actual meeting dates and are subject to car availability. Rates are available from all Louisiana locations.

Advance reservations may be made by calling the Hertz Reservations number (US: 1-800-654- 2240; Canada: 1-800-263-0600; International: contact your nearest Hertz reservation center) and identify yourself as an attendee of the TMS Annual Meeting and reference the CV number: CV#010P0008. You must give the reservations agent the Hertz Number.
Leasing Terms and Conditions:
UNLIMITED MILEAGE ALLOWANCE ON ABOVE RATES.
One-way service fee will apply when cars are not returned to renting location.
Additional daily charges for optional coverage (Loss Damage Waiver, Effect Protection, refueling and state tax) are not included in the above rates.
Drivers must meet standard Hertz age, driver and credit requirements.
Hertz is a frequent flyer partner with US Airways, Delta, Northwest, United and American Airlines. Frequent flyer information may be requested at time of car booking.
---

RATES BEING OFFERED ARE AS FOLLOWS:

---

Daily
Weekend
Weekly
Car Class

---

(Per Day)

---

(Per Day)

---

5–7 Day

---

A Economy-2Dr
$34.99
$21.99
$129.99
B Compact-4Dr
$39.99
$25.99
$149.99
C Midsize-2/4Dr
$42.99
$27.99
$164.99
D Sporty-2Dr
$45.99
$32.99
$179.99
F Fullsize-4Dr
$49.99
$34.99
$194.99
I Luxury
$65.99
$62.99
$294.99
L 4-Wheel Drive
$65.99
$62.99
$274.99
T Premium and SU*
$70.99
$67.99
$324.99
N Premium and SU X-cap*
$75.99
$72.99
$374.99
R Minivan
$65.99
$62.99
$274.99

---

* Car classes T and N not available from all locations.

---
---
The information on this page is maintained by the TMS Meeting Department (mtgserv@tms.org).