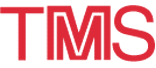 2001 TMS Annual Meeting: Special Lectures and Addresses
---
February 11–15 · 2001 TMS ANNUAL MEETING · New Orleans, Louisiana



During the week of February 11–15, 2001, at the 130th Annual Meeting & Exhibition of The Minerals, Metals & Materials Society (TMS), you can join more than 4,000 science and engineering professionals, representing more than 70 different countries, who will come together for the opportunity to add to their own store of knowledge by capitalizing on the expertise and experience of their colleagues. More than 200 sessions and 1,000 individual presentations are scheduled. Whether your technical interests lie in precious metal extraction, aluminum processing, high-temperature superconductors, or just about any other materials field or metallurgical discipline, you will find programming that addresses your most pressing needs.

The 2001 TMS Annual Meeting & Exhibition will take place in New Orleans, Louisiana. The Hilton New Orleans Riverside Hotel will be the headquarters hotel for the event. All conference events, including registration, technical sessions, and the exhibition will take place at the Ernest N. Morial Convention Center.
---
Institute of Metals Lecture & Robert F. Mehl Medalist
---
New Discoveries in Deformed Metals
Presented by: Niels Hansen, The Riso Research Establishment
Date: Wednesday, February 14, 2001
Time: 12:00 noon-2:00 PM
Location: Grand Salon A, Hilton New Orleans Riverside Hotel
About the topic: Deformed metals have in the last decade been extensively studied by many new and advanced microscopical techniques. This has allowed the structural evolution at increasing strain to be modeled based on general principles. An outcome has been new relationships between processing parameters, structure and macroscopic properties.

About the presenter: About the presenter: Dr. Hansen has been the head of the Materials Research Department at The Riso Research Establishment under the Danish Atomic Energy Commission since 1964 with a staff of about 100 working on a broad range of problems in the materials field.

He received his M.Sc. in chemistry from the Technical University of Denmark, a DEA in metal-lurgy from the Institute of National Sciences and Technology Nuclear of France and a Dr. of Technology in materials from the Technical University of Denmark.

Dr. Hansen has been recognized for his outstanding research contributions and accomplish-ments by many major awards, including: Member of the Danish Academy of Technical Sciences (1968), Fellow of the Institute of Materials, UK (1973), Danish Knighthood (1978), Fellow of ASM International (1988), Member of Academia Europaea (1993), Foreign Associate, US National Academy of Engineering (1995) and Advisory Professor, Harpin Institute of Technology, China (1995).
---
Extraction & Processing Division Distinguished Lecturer
---
Recycling at U.S. Plants Operated Solely to Recycle Metal-Rich Wastes
Presented by: Dr. Paul B. Queneau, P.E., P.B. Queneau & Associates, Inc.
Date: Tuesday, February 13, 2001
Time: 1:30PM-3:00PM
Location: Grand Ballroom B, Hilton New Orleans Riverside Hotel
About the topic: Some twenty U.S. plants are solely devoted to the recovery of values from metal-rich wastes. Each plant has established a market niche based on one or more competitive advantages: superior process technology, access to key feedstocks, equip-ment not affordable to the competition, special knowledge of markets for alternative plant outputs, and an economic, environmentally sound sink for outfall water containing alkali-metal sulfates and chlorides. This lecture examines recycling plant methodology and competitiveness. Particular attention is given to feedstocks, process technologies, products, and specialties. These metal recycling plants perform a valuable role in our nation, and are cause for pride.

About the presenter: Paul B. Queneau earned his B.S. in metallurgical engineering at Cornell University in 1964, and his Ph.D. in metallurgical engineering at the University of Minnesota in 1967. For over 30 years he has developed extractive processes for primary and secondary feed-stocks, and participated in plant startups and plant operations to maximize output, yield, and product quality. Dr. Queneau began his career in copper and molybdenum metallurgy at the Kennecott Copper Research Center in Salt Lake City, followed by 10 years at AMAX R&D Laboratory and 14 years at Hazen Research in Golden, Colorado. Research at AMAX was principally on nickel, cobalt, tungsten, and molybdenum, and at Hazen a on broad range of nonferrous metals. His current firm (1997 to date), P.B. Queneau & Associates, focuses on pyrometallurgy and hydrometallurgy for the extraction and recycling of primary and sec-ondary raw materials, resource location and product marketing.

Dr. Queneau, Cornell Tau Beta Pi, is a registered Professional Engineer in Colorado, Past President of the Denver Section, AIME Chapter ('87-'88), Chairman of the TMS/EPD Copper, Nickel, Cobalt Committee ('91-'92), Plenary Speaker at the Wadsworth Hydrometallurgy Symposium ('93), General Meeting Chairman for the Third International Recy-cling Symposium ('95), Chairman of the EPD Award Committee ('95-'96), and Recycling Short Course Organizer (TMS, CIM, CSM and U.S. EPA; '92 to date). Dr. Queneau is an Adjunct Professor at the Colorado School of Mines, has authored 33 technical papers and holds 26 U.S. patents.


---
The information on this page is maintained by the TMS Meetings Department (mtgserv@tms.org).