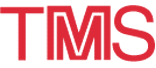 2001 TMS Annual Meeting: Poster Session
---
February 11–15 · 2001 TMS ANNUAL MEETING · New Orleans, Louisiana



During the week of February 11–15, 2001, at the 130th Annual Meeting & Exhibition of The Minerals, Metals & Materials Society (TMS), you can join more than 4,000 science and engineering professionals, representing more than 70 different countries, who will come together for the opportunity to add to their own store of knowledge by capitalizing on the expertise and experience of their colleagues. More than 200 sessions and 1,000 individual presentations are scheduled. Whether your technical interests lie in precious metal extraction, aluminum processing, high-temperature superconductors, or just about any other materials field or metallurgical discipline, you will find programming that addresses your most pressing needs.

The 2001 TMS Annual Meeting & Exhibition will take place in New Orleans, Louisiana. The Hilton New Orleans Riverside Hotel will be the headquarters hotel for the event. All conference events, including registration, technical sessions, and the exhibition will take place at the Ernest N. Morial Convention Center.
POSTER SESSION
A technical, noncommercial poster session will be held in conjunction with the 2001 Annual Meeting. Presentations will be displayed on 4x8-foot poster boards; no formal presentation is required. Individuals should refrain from the use of brand names and specific product endorsements.

The Poster Session will begin on Monday, February 12 and remain in place through Wednesday, February 14. Abstracts of 150 words or less must be submitted to the Conference Management System (CMS) by January 5, 2001.
---
The information on this page is maintained by the TMS Meeting Department (mtgserv@tms.org).