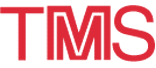 2001 TMS Annual Meeting: Exhibitor
---
February 11-15 · 2001 TMS ANNUAL MEETING · New Orleans, Louisiana
Graphite Engineering & Sales Co is a customer-oriented company specializing in cutting and machining graphite products. The level of excellence we demand of our quality and service have provided Graphite Engineering with continuing success and growth.

Graphite Engineering will have on hand knowledgeable Sales Engineers to answer any questions you may have. Graphite Engineering specializes in machining graphite per your specifications.

Graphite Engineering will be displaying the following items:
nuts and bolts
brazing fixtures
degassing shaft and rotor
canister inserts
run-out plates
molds
secondary billet casting rings
heating elements
electrodes
crucibles
sintering trays
sintering boats
Visit Graphite Engineering & Sales Co at booth #916 to discuss your graphite requirements.

---