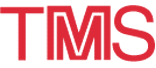 2001 TMS Annual Meeting: Exhibitor
---
February 11-15 · 2001 TMS ANNUAL MEETING · New Orleans, Louisiana
London & Scandinavian Metallurgical Co Limited (LSM), a member of the Metallurg Aluminium Group, seeks to provide Quality, Service and Technology to aluminium cast houses worldwide, with a comprehensive range of specialized aluminium grain refiners, master alloys and compacted powder products.

LSM's recent £5 million investment in a new TiBAl rod mill will meet growing world demand with con-sistent quality, increased efficiency, and enhanced customer service. This investment, along with the acquisition of Hydelko AS Norway in March 2000, demonstrates our total commitment to serving the global aluminium community.

LSM achieved QS9000 in February 2000, mak-ing them the world's first producer of grain refiners, master alloys and compacted additives to achieve this accreditation.

We invite you to stop by the new Metallurg Alu-minium Group booth for the latest information on our products and services and how they can be used in your applications.
---