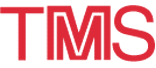 2001 TMS Annual Meeting: Exhibitor
---
February 11-15 · 2001 TMS ANNUAL MEETING · New Orleans, Louisiana
Thermcon Ovens B.V. is a leading specialist in the design and delivery of aluminium casthouse equipment such as charging machines, melting furnaces, holding furnaces, metal filter boxes, d.c. casting machines and homogenizing / cooling facilities. State of the art aluminium scrap recycling facilities capable of handling contaminated aluminium scrap in full compliance with the latest very strict European legislation, are supplied to the recycling industry. These recycling facilities have time after time proven to meet or exceed the most stringent environmental regulations in the world.

Revamping and modernization of existing equipment is also undertaken.

Thermcon also undertakes the design and implementation of computer control systems at machine level, level 2 as well as the connection to plant wide computer networks.

All equipment is custom designed and exactly tailored to the requirements of the customer.

---