---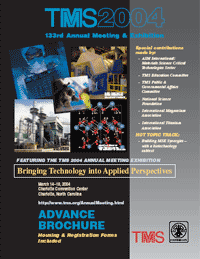 ---
ABOUT THE PRESENTER
---
Mr. Seagle has currently retired as Vice President of Technology at RMI Titanium Co., a leading producer of titanium mill products. Mr. Seagle has been involved for 40 years in all aspects of titanium technology including metal reduction, titanium metallurgy, and titanium processing and marketing. He served as the company's technical liaison with major airframe producers, gas turbine manufacturers, titanium fabricators, titanium casters and titanium forgers.

His early career centered around research in titanium physical metallurgy and alloy development. Several titanium alloys developed by Mr. Seagle are in current use in aerospace and corrosion-resistant applications. He has been involved in market development as well as providing technical service to titanium users. In his last position he had responsibility for research, quality assurance and process control.

Mr. Seagle earned his Bachelor of Science and Masters degree in Metal Engineering at Purdue University in 1955 and 1957 respectively. Products of a 38-year career include 14 patents (3 currently commercial alloys), 38 technical talks and 40 publications. He was the recipient of many awards; notably Distinguished Engineering Alumni, Purdue University 1982, Fellow of ASM International 1987, Warren Chapter ASM "Professional Accomplishment" 1987 and" Outstanding Person", Mahoning Valley Technical Council 1992. In retirement he maintains an association with the titanium industry as a consultant and lecturer.
---
A special post-conference workshop to be presented by the International Titanium Association: FUNDAMENTALS OF TITANIUM WORKSHOP
To be held in conjunction with TMS 2004 Annual Meeting & Exhibition
Date: Friday, March 19, 2004

Course Objective:
This comprehensive workshop will provide attendees with detailed information on the types, uses, and properties of common titanium alloys. Attendees will leave with an understanding of applied titanium metallurgy fundamentals.
Course Content:
Historical overview of titanium
Cleaning & finishing
Metallurgy & metallography of titanium
Casting
Mechanical properties and testing
Powder metallurgy
Titanium alloy processing
Joining
Corrosion resistance
Heat-treating
Machining and chemical shaping
Applications overview
Course Overview:
Session I: Titanium History, Characteristics, Manufacturing
Session II: Titanium Alloys, Heat Treating, Cleaning & Finishing, Safety
Session III: Joining, Forming, Corrosion
Session IV: Recent Advances, Current Applications, Future Threats
Who Should Attend:
This course is appropriate for professionals that use, process or fabricate components with titanium. Individuals who need an understanding of titanium and its alloys to facilitate their job functions. Past attendees include:
Marketing/Sales
Quality
Operations
Administrators
Purchasing
Potential Users of Titanium
Why You Should Attend:
Fundamentals of Titanium will prepare you to present and work effectively with job-related functions that involve titanium. You will receive a complete overview of titanium and a thorough grounding in its metallurgy, characteristics, properties and uses. The registration fees include: workshop materials, full day workshop, and lunch. Attendees with receive a comprehensive study guide and will also receive a 20% discounted voucher for the publication, Titanium, when ordered through the International Titanium Association. Due to the interactive nature of this workshop, attendance is limited.
Fee: $195 per person
For more information or to register, please contact:
International Titanium Association
350 Interlocken Blvd., Suite 390
Broomfield, CO 80021-3485 USA
Tel: (303) 404-2221
Fax: (303) 404-9111
E-mail: info@titanium.org
Web: www.titanium.org