---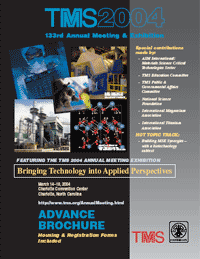 ---
ABOUT THE PRESENTER
---
Toni Grobstein Marechaux is currently the Director of the National Materials Advisory Board at the National Academies (The National Academy of Sciences, the National Academy of Engineering, the Institute of Medicine, and the National Research Council). She also directs the staff and activities for the Board on Manufacturing and Engineering Design. Both boards act as advisers to the Nation on science and engineering issues. Recent Materials Board activities have addressed materials research for 21st century defense needs, the need for accelerated technology transition, and the globalization of materials research and development.

Dr. Maréchaux maintains an abiding interest in abolishing barriers to new technology applications and in engineering solutions for sustainable development. She has a BS in Metallurgical Engineering from the University of Illinois at Urbana-Champaign, and MS and PhD degrees in Materials Science from Case Western Reserve University in Cleveland, Ohio.
---
Date: Monday, March 15, 2004
Location: Westin Charlotte Hotel
Time: 12:00 PM–2:00 PM
Room: Grand Ballroom D

"Potomac Fever: Or, How I Learned to Stop Worrying and Love Materials Policy"



Presented by:
Toni Grobstein Marechaux,Director, National Materials Advisory Board The National Academies

About the topic:
As a researcher, one often wonders why one project receives federal funding and another doesn't, or why Congress decides to fund one initiative and not another. Many people in Washington wonder this as well; some even think there are reasons why these things happen. This presentation will discuss how and why a materials scientist or engineer might make their way to Washington for a short time or a longer career. Topics will include the role of the National Research Council in administering fellowships, providing independent advice, and facilitating dialogue as well as a discussion of some emerging issues in the legal, social, and ethical implications of technology. The value of dabbling will also be covered, by one materials scientist who has worked in government, industry, academia, and an NGO, and in materials ranging from concrete to columbium, from steel to superalloys, and from borates to biomaterials.

Optional box lunch for $25 may be purchased at the TMS Registration desk. Tickets will NOT be sold at the door.