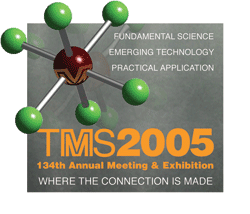 VIEW THE FINAL TECHNICAL PROGRAM
Electronic Materials Overview
SYMPOSIUM: Lead Free Solder Implementation: Reliability, Alloy Development, New Technology
PROCEEDINGS: Journal of Electronic Materials
This symposium will focus on the implementation of lead free solder alloys in the manufacture of electronic assemblies. Papers which address the long-term reliability of solder joints and electronic assemblies are especially welcome. Topics in this area could include: long term thermal cycling, damage accumulation, property deterioration, and statistical analysis techniques. Solder alloy development is also of interest.
Topics in this area could include: modifications to Sn-Ag-X alloys, alternatives to Sn-Ag-X alloys, materials and manufacturing challenges in solder alloy design, structure-property-processing relationships of bulk solders and solder joints, alloy development for optical/Optoelectronic and MEMS packaging, influence of surface and underbump metallization on solderability and integrity of solder joints, microstructure modeling and control, and testing methodologies of various kinds of electronic packages. Presentations will also focus on new technologies and techniques. These could include: soldering processes, metallization (board and component finishes), alternative interconnect technologies for stress management at both the wafer level, and chip to package level, and the issues involved in the design and integration of conductive adhesives in electronic packaging.
SYMPOSIUM: Refractory Metals in Electronic Applications
Refractory metals (Cr, Mo, W, Ta, Nb, Zr and Ti) have electrical, thermo-mechanical and chemical properties that are uniquely applied in electronic material applications as well as in production of electronic materials. This symposium will review the unique properties and applications of refractory metals including
Electronic packaging/heat sinks
Thin films for integrated circuits, displays, and wiring, and
Electronic processing. The unique properties include low thermal expansion, high stiffness, electrical conductivity, and chemical stability. The purpose of this symposium is to provide a venue to expand industrial and research knowledge-base to improve the applications of refractory metals in electronic materials with their unique properties and characteristics.