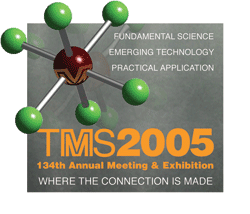 VIEW THE FINAL TECHNICAL PROGRAM
Emerging Materials Overview
SYMPOSIUM: Applications and Fundamentals of High Aspect Ratio Nanomaterials
PROCEEDINGS: Journal of Electronic Materials
This symposium will address the applications and fundamental physics and chemistry of high aspect ratio nanomaterials. High aspect ratio nanomaterials include nanotubes, nanowires, nanobelts, nanorods, etc. These materials may be of any composition. The nanomaterials may be carbon-based, silicon-based or a variety of functional materials such as complex magnetic, ferroelectric, and piezoelectric oxides, functional intermetallics such as ferromagnetic shape memory alloys, or complex magnetic materials for spintronics. Topics of interest related to high aspect ratio nanomaterials include, but are not limited to, controlled and directed growth; physics and chemistry or other fundamental properties; theoretical modeling studies; their use in sensing, electronic, magnetic, biologic, or other scientific applications; synergistic growth or use as building blocks for complex or hybrid systems.
SYMPOSIUM: Bulk Metallic Glasses
In the last decade, new approaches to fabricating metallic glasses (i.e., by utilizing unique combinations of elements to form metallic-glass alloys) have resulted in the required cooling rate dropping from 10 5°C/s to as low as 1°C/s, and the specimen size increasing from 0.05mm to as large as 80mm. Because of the large sizes possible with this exciting technology, the metallic glasses are called BMGs. Mechanical behavior of BMGs is among the new, exciting fields of research that are fully illustrating their advantages over crystalline alloys. Generally, BMGs have higher fracture strengths, fracture toughnesses, and elasticities than their crystalline counterparts. There is great interest in BMGs for use in biomedical, structural, and mechanical applications.
SYMPOSIUM: Frontiers in Thin Film Growth and Nanostructured Materials: A Symposium in Honor of Prof. Jagdish Narayan
This symposium will honor Prof. Jay Narayan for his pioneering research contributions to materials research related to beam processing and characterization of semiconductors, superconductors, and nanostructured materials. This symposium will focus on applications of cutting edge materials processing techniques and characterization methods that facilitate the convergence of thin films and nano-materials technology in data storage, computing, sensing, medicine, pharmaceuticals, biomedical devices, chemical and energy and other novel applications. We propose to schedule several plenary lectures in the development of next generation advanced materials structures and characterization techniques. Papers are planned in the following areas, but are not limited to:
Nano and thin film Technology - Information Technology Convergence Processes for magnetics, Photonics, electronics Nanoscale Devices
Nanotechnology - Medical Technology Based Convergence Nanstructured Surfaces and Interfaces Nanostructured Medical Devices
Nanotechnology - Structural Materials Based Convergence Metallic Nanoparticles NanoComposites and Nanolaminates
Nanotechnology - Chemical Based Materials Convergence Energetic Materials Systems Nanoslurries, Pastes, etc.
Nanoscale Characterization Techniques Interface and Surface Characterization in Nanostructured Materials Nanomechanical Characterization Techniques
SYMPOSIUM: Biological Materials Science and Engineering
PROCEEDINGS: Metallurgical & Materials Transactions
The Biology-Materials connection is a fertile field of research with limitless possibilities. The constituents of biological systems are biological materials whereas biomaterials are synthetic materials developed for and used in the body. The structures and properties of biological materials have an unmatched breadth and complexity. The structure-property relationships in these materials are only starting to be established at the present time. Present thrusts toward developing novel biomaterials with unique tailored properties and improved biocompatibility are yielding exciting concepts. Biomimetics is a newly emerging interdisciplinary field in which lessons learned from biology form the basis for novel material concepts. This new field of biomimetics investigates biological structures, establishing relationships between properties and structures in order to develop methods of processing and microstructural design for new materials. It is giving rise to new materials concepts, including multifunctional and hierarchically-structured materials, and new materials synthesis/processing approaches. Many properties of biological materials are far beyond those that can be achieved in synthetic materials with present technologies. Biological organisms produce complex composites that are hierarchically organized in terms of composition and microstructure, containing both inorganic and organic components in complicated mixtures. These totally organism-controlled materials are synthesized at ambient temperature and atmospheric conditions. The unique microstructures in biological composites and the resulting properties have been, until recently, unknown to Materials Scientists, but are now beginning to stimulate creativity in the development of future synthetic materials. The symposium will encompass the following themes: Biological materials, Biomaterials (Bioimplants), and Biomimetics.
SYMPOSIUM: Polymer Nanocomposites—Their Science, Technology, and Applications
This four-session symposium will focus on the science and technology of polymer-based nanocomposites. Both fully dense materials and nanocomposite foams are included. It is intended to present a cross-section of the state-of-the-art regarding production, properties and applications of these materials. Coverage includes: synthesis techniques; nanoparticle and nanofibre fillers; surface functionalization; matrix / filler optimization; properties (e.g. thermal, electrical, optical, diffusion; mechanical, chemical, etc); and characterization techniques. Secondary properties such as fatigue, service temperature range, flame retarding, density, and acoustic absorption are also important. Existing and potential applications for nanocomposites, in particular those which take advantage of the multifunctional properties which can be obtained with these materials are especially welcomed.