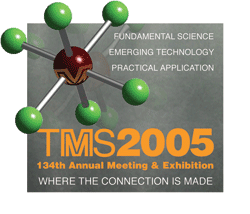 VIEW THE FINAL TECHNICAL PROGRAM
Extractive Processing Overview
SYMPOSIUM: Converter and Fire Refining Practices
PROCEEDINGS: EPD Congress 2005 CD-ROM
Recent developments in continuous and batch converting practices. Influence on fire refining as a result of these updates are also to be discussed. Vessel design and control and optimization techniques can form part of this review.
SYMPOSIUM: Extractive Metallurgy
PROCEEDINGS: EPD Congress 2005 CD-ROM
This symposium will discuss general topics in Pyrometallurgy, Aqueous Processing, and Waste Treatment and Minimization. This includes the science, technology, and industrial practice of the processing of ores and the treatment and minimization of wastes.
SYMPOSIUM: Materials Processing Fundamentals
PROCEEDINGS: EPD Congress 2005 CD-ROM
This symposium will cover all aspects of the fundamentals, synthesis, analysis, design, monitoring, and control of metals, materials, and metallurgical processes and phenomena. Topics include the experimental, analytical, and computer modeling aspects of the physical chemistry, thermodynamics, and transport phenomena in materials and metallurgical processes as well as monitoring and control methodologies involved in these processes. Research relating to processes involving iron and steel, nonferrous metals, or lightweight alloys and topics that relate to process monitoring and control involving laboratory or in-plant validation are especially encouraged.
SYMPOSIUM: Arsenic Metallurgy: Fundamentals & Applications
PROCEEDINGS: EPD Congress 2005 CD-ROM and Arsenic Metallurgy: Fundamentals and Applications
The International Symposium presents modern technologies/ fundamentals available that are necessary for further advances in arsenic metallurgy. Arsenic has been a problem associated with the extraction of nonferrous metals since the Bronze Age. During the past decade a combination of both lower grade ores and environmental concerns has resulted in accelerated technological developments to meet this arsenic challenge. Of particular interest has been the treatment of arsenical precious metals feed stocks.
SYMPOSIUM: Precious Metals: Au, Ag, Pt, Pd, Os, Rh, Ir, Ru
PROCEEDINGS: EPD Congress 2005 CD-ROM
Primary and secondary production processing and recycling of the precious metals.
SYMPOSIUM: Reactive Metals
Papers are solicited on all aspects of the extraction, separation, purification, preparation, production and application of reactive metals (those that typically require molten salt processing), including but not limited to alkali metals (Li, Na, K), alkaline-earth metals (Be, Ca), groups 3-6 refractory metals (Ti, Zr, Hf, V, Nb, Ta, Cr, Mo, W), rare earths, and actinides. Proceedings from this symposium will be published in Light Metals 2005.
SYMPOSIUM: Metallurgical Technology for Waste Minimization
PROCEEDINGS: EPD Congress 2005 CD-ROM
Many hydrometallurgical and pyrometallurgical technologies have been developed in the metal refining processes. On the other hand, various kinds of wastes are discharged from electric, electronic, and non-ferrous metal industries. These wastes contain metal values such as Cu, Zn, Ni and precious metals to be recovered by a suitable separation method. Best matching between wastes and metallurgical technologies is important to realize waste minimization. The session will cover various applications of metallurgical technologies to waste minimization and the related area.