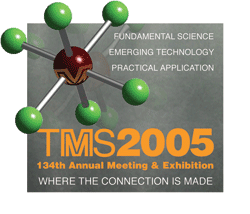 VIEW THE FINAL TECHNICAL PROGRAM
Phases and Phase Transformations Overview
SYMPOSIUM: Hume-Rothery Symposium: The Science of Complex Alloys
This symposium, held in honor of the 2005 Hume-Rothery Award recipient, Uichiro Mizutani, will emphasize both theoretical and experimental aspects of electronic, structural, and thermodynamic properties of complex alloy phases. The invited speakers will provide an assessment of our current understanding of the structural properties of complex materials, including quasicrystalline and amorphous alloys. Special emphasis will be put on our understanding of why Nature is able to stabilize such complex atomic arrangements. Most of these structures have been synthesized by using the Hume-Rothery rule that relates fundamental aspects of electronic structure to stability. In recent years, bulk metallic glasses have been synthesized in many multi-component systems. Here again there is a need to understand better why metallic glasses can be stabilized in bulk form within a specific range of alloy compositions. The above features and more recent results related to structurally complex alloy phases will constitute the main theme of this symposium.
SYMPOSIUM: The Armen G. Khachaturyan Symposium on Phase Transformation and Microstructural Evolution in Crystalline Solids
This symposium will honor the remarkable contributions of Armen G. Khachaturyan to many fields in materials science in the last 40 years. In particular, his concentration wave theory of ordering in alloys and ceramic compounds has provided a bridge between statistical mechanics of alloys, their symmetry, macroscopic thermodynamics, and diffraction. This symposium intends to bring together theoretical, computational and experimental materials scientists to address current issues in microstructural evolution during solidstate reactions and effects of defects (dislocations, surfaces, interfaces, grain boundaries, et. al.) and external stress/electrical/magnetic fields. Six sessions are anticipated including both invited and contributed talks in each session. Joint sessions are planned with the symposium on Computational Thermodynamics and Phase Transformations.
SYMPOSIUM: Phase Stability, Phase Transformation and Reactive Phase Formation in Electronic Materials IV
This is the fourth in a series of TMS symposia addressing the stability, transformation, and formation of phases during the fabrication, processing, and utilization of electronic materials and devices. Topics of interest include: phase stability issues surrounding microelectronics packaging technology (e.g., stability of under bump metallizations, interfacial reactions at solder joints, phase transformations in lead-free solders during reflow and thermal cycling); phase formation and integrated circuit technology (e.g., phase transformations in metal silicide gate materials, phase stability of contacts and interconnects, and diffusion barrier materials); and the phase stability and morphological evolution of novel electronic materials (such as multicomponent III-V semiconductors, electroceramic materials, strained layers and superlattices, and self-assembled structures).
SYMPOSIUM: Phase Transformations Within Small-Size Systems
PROCEEDINGS: Metallurgical and Materials Transactions
The emphasis of this symposium is on solid-solid phase transformations that occur within small particles or matrix grains (as opposed for instance to nanosized precipitates forming within matrix grains of conventional or large size). Examples of such size effects on phase transformations include the size-dependent extension of solid solubility, alteration of phase boundaries and phase equilibria, and suppression of spinodal decomposition and long range ordering. Further examples include significant changes in the morphology, nucleation, and growth of diffusional precipitates and/or martensitic crystals that can occur as a result of the reduced dimensions of the matrix within which they form. These size-dependent changes often lead to novel properties (e.g., retention of ferromagnetism at the nanoscale). Achieving a fundamental understanding of matrix (or matrix grain) size effects on the thermodynamics, kinetics, and mechanisms of phase transformations is crucial, and significant progress is beginning to be made in recent years. Emphasis is on 3-dimensional, nano-size particles and matrix grains, with one or two sessions devoted to thin films (including electrodeposited materials). Topics to be covered include: thermodynamics and phase equilibria; spinodal decomposition; order-disorder transitions; precipitation, allotropic and displacive transformations; magnetic and ferromagnetic transitions; nanopowder metallurgy; devitrifi cation of metallic glass; surface effects and characterization.
SYMPOSIUM: Multicomponent Multiphase Diffusion Symposium in Honor of John E. Morral
Throughout his career, John Morral has dedicated his work to the understanding and application of multicomponent diffusion. This symposium, in honor of John Morral's 65th birthday, will highlight both experimental and theoretical work in a variety of multicomponent multiphase diffusion problems. This work is increasingly important in improving industrial materials processing and development. Highlighted topics are to include diffusion kinetics of high temperature coatings and processing, zig-zag diffusion paths, internal oxidation, carburizing, nitriding, and alloy heat treatment.
SYMPOSIUM: Computational Thermodynamics and Phase Transformations
This symposium is the fourth in a series of annual TMS symposia focusing on computational thermodynamics and kinetics of phase transformations. The intent is to assemble materials scientists in both computational and experimental disciplines to assess the current status of computational models and simulation techniques at different time and length scales. Attention will be given to the mechanistic fundamentals and practical applications of phase and microstructure transformation in advanced materials including metals, ceramics, and semiconductors. Of particular interest are computational models that integrate two or more different approaches, analyses that compare the relative merits of various simulation techniques, and validation of simulation results from experimental data.