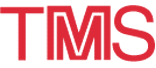 About the 1996 TMS Annual Meeting: General Meeting Information
---
February 4-8 · 1996 TMS ANNUAL MEETING ·  Anaheim, California
LOCATIONS
The Anaheim Marriott and Anaheim Hilton Hotels will be co-headquarters for the 1996 TMS/AIME Annual Meeting. Technical sessions, registration, and the exhibition will take place at the Anaheim Convention Center.
REGISTRATION
Registration will be held in the Anaheim Convention Center during the following hours:
Sunday, February 4 2:00 p.m. - 7:00 p.m.
Monday, February 5 7:00 a.m. - 7:00 p.m.
Tuesday, February 6 7:00 a.m. - 5:00 p.m.
Wednesday, February 7 7:00 a.m. - 5:00 p.m.
Thursday, February 8 7:00 a.m. - 1:00 p.m.
REGISTRATION POLICY
All attendees and authors must register for the meeting. Non-member authors may register at the special non-member author rate. Badges are required for admission to all technical sessions, the exhibition, and social functions.
REFUND POLICY
The deadline for all refunds is January 8, 1996. Contact TMS Customer Service (csc@tms.org) for information on how to request a refund. No refunds will be issued at the meeting.
GUEST HOSPITALITY
A special guest hospitality area will be hosted each day of the meeting from 7:00-10:00 a.m. in the Anaheim Convention Center. TMS will sponsor a continental breakfast for the convenience of spouses and accompanying persons of meeting attendees. The Guest Hospitality Room is a good place to meet, socialize, and gather for tour departure. In addition, local highlights, shopping information, transportation schedules, and dining details will be available.
BUSINESS SERVICE CENTER AVAILABLE FOR TMS MEMBERS
A special sevice for members will be provided by TMS/Sack Sitters in the Anaheim Convention Center -- a business service center where members may conveniently make copies or send faxes at discounted rates. The center will be open Monday, February 5, through Wednesday, February 7, during registration hours, and will have someone available to help you with these services.

ATTENTION: Non-members and Non-member authors!
Don't forget to submit your membership application for your complimentary 1996 TMS membership! Just bring it over to the membership desk and receive your new member packet and complimentary gift . . . and, you will automatically be entered in our post-meeting drawing for a week-end's complimentary lodging at the 1997 Annual Meeting in Orlando, Florida!
AMERICANS WITH DISABILITIES ACT
TMS strongly supports the federal Americans with Disabilities Act (ADA) which prohibits discrimination against, and promotes public accessibility for those with disabilities. In support of and compliance with this Act, we ask that those requiring specific equipment or services as an attendee of the TMS Annual Meeting should have contacted the TMS Meeting Services Department and advised of any specific requirements in advance.

---
The information on this page is maintained by TMS Customer Service Center (csc@tms.org).