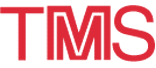 About the 1996 TMS Annual Meeting: Services for Members
---
February 4-8 · 1996 TMS ANNUAL MEETING ·  Anaheim, California
TMS Members Only...
THE TMS EMPLOYMENT REFERRAL BOARD
An employment referral board will be located in the TMS membership area where attendees may leave their resumes, and employers may post job openings. Also look for the table-top display promoting the new TMS Resume Link service. Information and resume forms are available with the display.
ATTENTION: TMS Member Registrants!
To show our appreciation for your attendance at the 125th TMS Annual Meeting, please stop by the TMS membership area anytime during the meeting and register to win one of several Disneyland prizes.

---
The information on this page is maintained by TMS Customer Service Center (csc@tms.org).