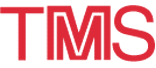 About the 1997 TMS Annual Meeting: Short Course Description
---
February 9-13 · 1997 TMS ANNUAL MEETING · Orlando, Florida

The following short course is sponsored by The Minerals, Metals & Materials Society's Extraction & Processing Division
Ion Exchange Technology for Use in Hydrometallurgical Industries
Presented by: Mr. Richard S. Dennis, TETRA Technologies, Inc.
Date: Saturday and Sunday, February 8-9
Fee: $575 Member; $660 Nonmember
ABOUT THE PRESENTER:
Richard S. Dennis, a chemical engineering graduate of Lehigh University, has 23 years of experience in process development, design and operation of chemical and hydrometallurgical processes that utilize separation technologies. For the past 11 years, he has worked first with Advanced Separation Technologies, Inc. and now with TETRA Technologies, Inc. on continuous ion exchange applications for use in the chemical, mining and nuclear industries.
Who Should Attend:
This course is designed for engineers, metallurgists and chemists who want to acquire a broader understanding of the capabilities of ion exchange resins in commercial applications and for those involved in the process development of separation processes.
Course Overview:
Ion exchange resins are best known for their use in water demineralization, softening or other forms of water purification. In mining, resins have been commercially used for the extraction of valuable metals, specifically gold and uranium. There are much broader applications for ion exchange than these relatively simple, low concentration separation processes, and advancements in resin quality, resin handling systems and process control have paved the way for commercialization of more complex processes.
The general overview will cover:
The basic structure of cation, anion and specialty resins
Ion exchange capacities, rates and selectivities
Resin regeneration, moisture content and deterioration
Physical properties of resins--hydraulic properties, particle size, swelling, attrition, useful life, and feed solution characteristics
The second portion of the course will deal with applications and design of ion exchange processes, such as:
Demineralization, purification, product recovery, selective separation and other uses
Comparison with alternative separation processes: solvent extraction, precipitation, etc.
Conventional and specialized resin handling systems
Process design phases: project definition, preliminary economics, laboratory and pilot testing, commercial design and equipment selection
Review of specific hydrometallurgical applications
---
Note: A tax deduction can be taken for all expenses of continuing education (including registration fees, travel, meals, and lodging) undertaken to maintain and improve professional skills. For more information concerning applicability, request publication 17 or 508 on educational expenses from the IRS.

---
The information on this page is maintained by TMS Customer Service Center (csc@tms.org).