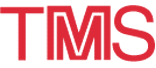 1998 TMS Annual Meeting: Exhibitor
---
February 15-19 · 1998 TMS ANNUAL MEETING · San Antonio, Texas
MEDIA CYBERNETICS
Booth #1310     Silver Spring, Maryland
---

Media Cybernetics designs and markets image processing software for end-users and software developers. Since 1981, Media Cybernetics has created products that offer ease of use, creative control and are compatible with a variety of hardware and software standards. Image-Pro Plus provides image analysis solutions for Windows and Macintosh that are fast, accurate, and simple to use. Image-Pro provides analytical image processing capabilities. It includes a full range of counting, sizing, statistical and image enhancement tools. It has an intuitive and consistent interface designed to produce results quickly.

Image-Pro is suitable for any research or industrial application where analysis of an image can help the user understand processes, make comparisons, or identify objects. Now available with Internet access.

Materials-Pro Analyzer is a specialized solution for the analysis of metals, ceramics, polymers, and other advanced materials. Materials-Pro provides materials science researchers with cost-effective software allowing users to automate the analysis of digitized images of specific materials products.

---