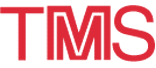 1998 TMS Annual Meeting: Exhibitor
---
February 15-19 · 1998 TMS ANNUAL MEETING · San Antonio, Texas
NKM
Booth #1309, 1311     Rotterdam, Holland
---
NKM and the Aluminium Industry
NKM products have found their way around the world since 1933. Ore transport installations exported to Beire, floating cranes to India and Turkey, custom designed loading- and transport installations to New Zealand, India, Hong Kong and Portugal, salt reclaimers to the United States, concrete loaders to Venezuela and since 1963 specially designed cranes and machines for aluminium reduction plants. Hundreds of these cranes and machines have now been installed worldwide.

Over the years, NKM has constantly upgraded and improved its equipment for the aluminium industry. Besides crane transfer systems NKM supplies the aluminium industry with cathode cranes, baking furnace cranes, pot tending cranes, jacking frames, anode stacking cranes, crucible cleaning machines, pipe cleaning machines, pre-heaters and refractory heaters, billet handling cranes and casthouse cranes. See us at booth 1309, Mr. Frits Felkers and Mr. Cees Langeveld. Or phone or fax NKM in Holland: tel. +31 10 4873462; fax +31 10 4873478.

---