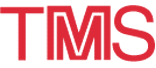 1998 TMS Annual Meeting: Exhibitor
---
February 15-19 · 1998 TMS ANNUAL MEETING · San Antonio, Texas
RIGAKU/USA Inc.
Booth #1041     Danvers, Massachusetts
---
Rigaku was founded in 1923 and has been at the forefront of analytical and industrial X-ray technology ever since. With its long established reputation for proven technology and innovation, Rigaku has produced the most comprehensive line of X-ray diffraction and fluorescence instrumentation available.

Complete elemental and structural analysis can be performed with X-rays. This technique offers a small footprint, minimal sample prep, accurate analysis, rapid turnaround, and, it's non-destructive.

WDXRF rivals the accuracy of wet chemical techniques in a fraction of the time; it can analyze elements over six orders of magnitude, from ppm's to 100%. Rigaku's Simultaneous WDXRF system allows for up to 40 elements to be measured at one time. It can also be configured with light (F-Ti) and heavy (Ti-U) element scanning channels for added versatility.

Rigaku's Miniflex allows for diffraction pattern "fingerprinting". Rigaku's XRD systems can identify and quantify crystalline compounds and structures. Rigaku and its X-ray systems put X-rays to work the world over.
---