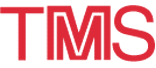 1998 TMS Annual Meeting: Exhibitor
---
February 15-19 · 1998 TMS ANNUAL MEETING · San Antonio, Texas
ROYAL TRACTOR COMPANY, INC.
Booth #832     New Century, Kansas
---
Royal will present a graphic display which will include Specialized Hauling Equipment with capacities from 25 to 200-tons designed to transport coils, slag, molten metal and other materials. The display will also include Royal's Industrial Lift Truck line of cushion tired lift trucks with capacities from 15,000 lbs (6,803 kgs) to 80,000 lbs. (36,287 kgs), and pneumatic tired lift trucks with capacities from 25, 000 lbs (11,340 kgs) to 55,000 lbs (24,948 kgs). John Pink, Sales Manager-Specialized Hauling Equipment will be at the booth. Please stop by and say hello.

---