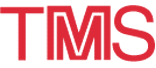 1998 TMS Annual Meeting: Exhibitor
---
February 15-19 · 1998 TMS ANNUAL MEETING · San Antonio, Texas
SILVER NEEDLE, INC.
Booth #1210, 1212     Kellogg, Idaho
---
WE KNOW WHO SIGNS OUR PAYCHECKS:
OUR CUSTOMERS
WE WANT TO WORK FOR YOU


Our company started in a foundry: 12 years working and producing safe yet comfortable clothing. We listen because we know the frustrations of not being understood, of wearing clothing that doesn't fit, rubs, scratches and confines. Give us the opportunity to work for you and see if Silver Needle can make a difference.

---