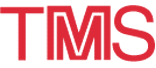 1998 TMS Annual Meeting: Exhibitor
---
February 15-19 · 1998 TMS ANNUAL MEETING · San Antonio, Texas
THERMAL SYSTEMS AMERICA
Booth #1242      Canastota, New York
---
Thermal Systems America looks forward to the 1998 TMS Annual Meeting. New this year is an interactive introduction to the engineering solutions and products available from TSA.

Join us at our booth #1242 where you can take a plant tour and learn about the history of TSA.

TSA Products include:
Floor Tile
Crucibles
Troughs
Furnace components
Filter Boxes
Electrical Pass Throughs
Starwheels
Degassing Systems
Flow Control
Most importantly, stop by and meet the people of TSA, who continue to make us the leader in providing engineering solutions to the industries we serve.

---