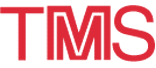 1998 TMS Annual Meeting: Exhibitor
---
February 15-19 · 1998 TMS ANNUAL MEETING · San Antonio, Texas
THERMPROCESS 99/DUSSELDORF TRADE SHOWS, INC.
Booth #1209     Chicago, Illinois
---
Düsseldorf Trade Shows, Inc. will be presenting information on THERMPROCESS 99, International Exhibition for Industrial Furnaces and Thermic Production Processes. THERMPROCESS 99 is scheduled to be held June 9-15, 1999 at the Fairgrounds in Düsseldorf, Germany.

Exhibits at THERMPROCESS will showcase the following products: industrial furnaces; heat treatment plants and thermal processes; components and equipment for industrial furnaces; metallic engineering materials; and services related to the industrial furnace industry.

THERMPROCESS will be held in conjunction with four other related shows: GEOSPECTRA, International Trade Fair for Geotechnology and Applied Earth Sciences; GIFA, International Foundry Trade Fair, METEC, International Exhibition for Metallurgical Technology and Equipment; and MINETIME, World Mining Technology Exhibition.

Together, these shows are expected to attract 100,000 trade visitors to Düsseldorf.

---