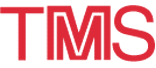 1998 TMS Annual Meeting: TMS MDMD, SMD, and LMD Luncheon
---
February 15-19 · 1998 TMS ANNUAL MEETING · San Antonio, Texas
The 1998 TMS Annual Meeting & Exhibition will take place at the Henry B. Gonzalez Convention Center in San Antonio, Texas, February 15-19, 1998.
"Contributions to Manufacturing Through the Mechanics/Materials Linkage"
Sponsored by: TMS Materials Processing & Manufacturing Division, Structural Materials Division, and Institute of Mechanics and Materials
Presenter: Ali S. Argon
When: Monday, February 16, 12:00 noon
Cost: $25 per person or $200 per table of eight

About the topic: Throughout the years the plastics technologists have discovered a number of ways in which to make notch brittle polymers tough by mostly empirical approaches based on often charming but untenable propositions that offer little predictive capability for further improvement. While the basic directions to be taken are remarkably simple, full explanations can be quite beautifully complex and may require a full complement of high power research techniques to satisfactorily establish their validity. A few dramatic examples will be presented.

About Mr. Argon: Ali S. Argon (Sc.D.) Quentin Berg Professor of Mechanical Engineering at the Massachusetts Institute of Technology, has experimentally studied and theoretically modeled inelastic deformation and fracture mechanisms in most engineering materials and model solids with considerable recent emphasis on solid polymers.

He has published extensively on the above subjects and received a number of awards. He is a fellow of the American Physical Society and a member of the National Academy of Engineering.

---
The information on this page is maintained by the TMS Customer Service Center (csc@tms.org).