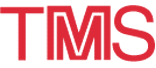 1998 TMS Annual Meeting: Tutorial Luncheon Lecture
---
February 15-19 · 1998 TMS ANNUAL MEETING · San Antonio, Texas
The 1998 TMS Annual Meeting & Exhibition will take place at the Henry B. Gonzalez Convention Center in San Antonio, Texas, February 15-19, 1998.
TMS will once again present its extremely popular Tutorial Luncheon Lecture Series at the meeting. This series offers an informal seminar atmosphere for expert presentations on subjects designed either as theoretical review or as informal discussion of experimental techniques and leading edge scientific advancements.
"Advanced Rechargeable Batteries: A Materials Science Perspective"
Sponsored by: TMS Continuing Education Committee
Presenter: Donald R. Sadoway
When: Monday, February 16, 12:00 noon-1:30 p.m.
Cost: $15, includes a "brown bag" lunch. No charge for attending the lecture only.

About the topic: The market for rechargeable batteries is estimated to be $1 billion by the year 2000 in such applications as cellular phones, laptop computers, and consumer electronics. Beyond this, electric vehicles represent yet another potentially enormous market. Batteries for these applications need to satisfy a range of requirements, including high energy density, low materials and processing costs, and avoidance of environmental, safety and health hazards. To a large extent, device performance is throttled by limitations in materials behavior.

The lecture will present an overview of the field of rechargeable batteries along with specific reference to the major battery technologies: lead acid; nickel metal-hydride; sodium sulfur; lithium ion; lithium solid polymer electrolyte. Each technology will be assessed in terms of its performance attributes and in terms of the materials problems that remain unsolved.

About the Presenter: Donald R. Sadoway is a professor of materials chemistry in the Department of Materials Science and Engineering at MIT. He obtained the B.A.Sc. in engineering science, the M.A.Sc. in chemical metallurgy, and the Ph.D. in chemical metallurgy from the University of Toronto. After a year of post-doctoral study at MIT as a NATO fellow, Dr. Sadoway joined the faculty in 1978. The author of over 65 scientific papers and holder of nine U.S. patents, his principle research interests are high-temperature physical chemistry, electrochemical processes in molten salts, and their use in environmentally sound technologies for the extraction, refining and recycling of metals.

---
The information on this page is maintained by the TMS Customer Service Center (csc@tms.org).