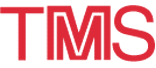 1999 TMS Annual Meeting: Exhibitor
---
February 28-March 4 · 1999 TMS ANNUAL MEETING · San Diego, California
ALMEX USA INC.
Booth #208     Long Beach, California
---
Almex USA, Inc. specializes in the design and supply of Aluminum Cast House Equipment. Almex's products are:
LARS: Liquid Aluminum Refining System
CASTRIGHT: Vertical D.C. Casting Machine
PERMEA: D.C. Billet Tooling
Almex's 21st Century Cast House Technologies provide unique, Metallurgically superior aerodefense grade cast metal quality at faster returns on investment.

---