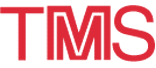 1999 TMS Annual Meeting: Exhibitor
---
February 28-March 4 · 1999 TMS ANNUAL MEETING · San Diego, California
BLOOM ENGINEERING COMPANY, INC.
---
Bloom Engineering Company, Inc. designs and manufactures burners, controls and combustion equipment for the aluminum, other non-ferrous and ferrous industries.

Representatives from Bloom will be available to discuss Bloom's complete burner line including Fuel Energy, high intensity and regenerative burners as well as their application to various furnaces used in the industry. Featured at the show will be Bloom's recently introduced LumiFlame and Regenerative HTR (Flat Profile Flame) burners. Measured NOx values from Bloom's complete line of Ultra Low NOx regenerative and conventional burners are the lowest in the industry.

---