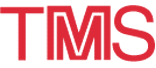 1999 TMS Annual Meeting: Exhibitor
---
February 28-March 4 · 1999 TMS ANNUAL MEETING · San Diego, California
CLEMEX TECHNOLOGIES, INC.
---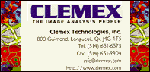 Clemex Technologies, Inc. is a leading developer and marketer of image analysis and management systems for use in quality control and R&D labs. The company offers a family of turnkey systems and application specific software modules designed to facilitate quantitative microscopy. Through highly intuitive and automated integrated systems, Clemex Technologies gives labs a greater competitive advantage by dramatically improving archaic image analysis and archiving processes. At the heart of each system is Clemex Vision - a robust, all-purpose image analysis software application.

Clemex will be exhibiting its Clemex Impak system along with Clemex R'Kive - a scientific image archiving and management package.

---