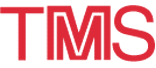 1999 TMS Annual Meeting: Exhibitor
---
February 28-March 4 · 1999 TMS ANNUAL MEETING · San Diego, California
LONDON & SCANDINAVIAN METALLURGICAL CO LTD.
Booth #625, 627     London, England
---
London & Scandanavian Metallurgical and Shieldalloy Metallurgical Corporation provide grain refiners, master alloys, and hardeners to the aluminum industry. Our latest developments, TiCAl 315* grain refining rod and Ti-C-Al systems, are being used in many different applications. Stop by our booth for the latest information and how it can be used in your application.

---