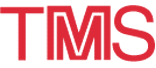 2001 TMS Fall Meeting: Car Rental Information
---
November 4–8, 2001 · TMS FALL MEETING 2001 · Indianapolis, Indiana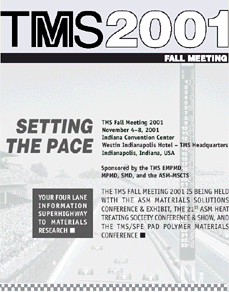 The TMS Fall Meeting 2001 will be headquartered at the Westin Indianapolis Hotel, Indianapolis, Indiana, November 4–8, 2001. All TMS technical sessions and events will take place in the Indiana Convention Center. TMS Committee Meetings will take place at the Westin Indianapolis Hotel. ASM events will take place at the Indianapolis Marriott Downtown.

Focusing on physical metallurgy and materials, the TMS Fall Meeting 2001 will feature a wide array of technical symposia sponsored by The Minerals, Metals & Materials Society (TMS). The TMS 2001 Fall Meeting is being held with the ASM Materials Solutions Conference & Exhibit, the 21st ASM Heat Treating Society Conference & Show, and the TMS/SPE PAD Polymer Materials Conference.The TMS Fall Meeting draws visitors from around the world and is a must for anyone interested in the latest research and development in physical metallurgy and materials. The meeting features numerous technical symposia covering everything from metal-matrix composites, polymers, and computational thermodynamics, friction stir welding, solidifications, materials design, to alloy phases--just to name a few of the many topics discussed.
HERTZ RENT-A-CAR
Hertz Rent-a-car System has been selected as the official car rental company for the 2001 TMS Fall Meeting in Indianapolis, Indiana.

Meeting rates listed below, with free unlimited mileage, are guaranteed one week before through one week after the actual meeting dates and are subject to car availability. Rates are available from all Indianapolis locations. Advance reservations may be made by calling the Hertz reservations number (US: 1-800-654-2240; Canada: 1-800-263-0600; International: contact your nearest Hertz reservation center) and identify yourself as an attendee of the TMS Fall Meeting 2001 and reference the CV number which follows:
Hertz CV#010P0009


---

RATES BEING OFFERED ARE AS FOLLOWS:

---

Car Class

---

Daily
(Per Day)

---

Weekend
(Per Day)

---

Weekly
5–7 Day

---

A Economy-2Dr
$34.99
$21.99
$129.99
B Compact-4Dr
$39.99
$25.99
$149.99
C Midsize-2/4Dr
$42.99
$27.99
$164.99
D Sporty-2Dr
$45.99
$32.99
$179.99
F Fullsize-4Dr
$49.99
$34.99
$194.99
I Luxury
$65.99
$62.99
$274.99
L 4-Wheel Drive
$65.99
$62.99
$274.99
R Minivan
$65.99
$62.99
$274.99

---

Standard rental and credit qualifications apply. Taxes, vehicle licensing fees/tax reimbursement, transpor-tation fee, transaction fee, city fees, and optional items, such as refueling, are extra. At some locations, an airport access fee of up to 10% may apply. At many airports and hotels, a 5% - 12.75% airport/ hotel concession fee recovery applies on car rental.
Terms and Conditions:
UNLIMITED MILEAGE ALLOWANCE ON ABOVE RATES.
One-way service fee will apply when cars are not returned to renting location.
Additional daily charges for optional coverage (Loss Damage Waiver, Personal Accident Insurance, Personal Effect Protection, refueling and state tax) are not included in the above rates.
Drivers must meet standard Hertz age, driver, and credit requirements.
Hertz is a frequent flyer partner with US Airways, Delta, Northwest, United and American Airlines. Frequent flyer information may be requested at time of car booking.
---
The information on this page is maintained by the TMS Meeting Department (mtgserv@tms.org)