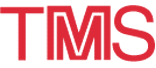 2001 TMS Fall Meeting: Airlines Information
---
November 4–8, 2001 · TMS FALL MEETING 2001 · Indianapolis, Indiana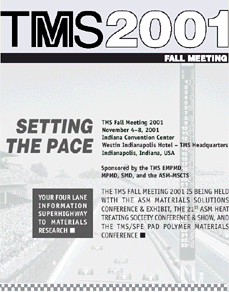 The TMS Fall Meeting 2001 will be headquartered at the Westin Indianapolis Hotel, Indianapolis, Indiana, November 4–8, 2001. All TMS technical sessions and events will take place in the Indiana Convention Center. TMS Committee Meetings will take place at the Westin Indianapolis Hotel. ASM events will take place at the Indianapolis Marriott Downtown.

Focusing on physical metallurgy and materials, the TMS Fall Meeting 2001 will feature a wide array of technical symposia sponsored by The Minerals, Metals & Materials Society (TMS). The TMS 2001 Fall Meeting is being held with the ASM Materials Solutions Conference & Exhibit, the 21st ASM Heat Treating Society Conference & Show, and the TMS/SPE PAD Polymer Materials Conference.The TMS Fall Meeting draws visitors from around the world and is a must for anyone interested in the latest research and development in physical metallurgy and materials. The meeting features numerous technical symposia covering everything from metal-matrix composites, polymers, and computational thermodynamics, friction stir welding, solidifications, materials design, to alloy phases--just to name a few of the many topics discussed.
U.S. AIRWAYS
US Airways agrees to offer an exclusive low rate for the attendees traveling to the TMS Fall Meeting 2001 in Indianapolis, Indiana. Offer applies to flights on US Airways via Indianapolis, Indiana.

This special fare will offer a 5% discount off First or Envoy Class and any published US Airways promotional round trip fare. A 10% discount on unrestricted coach fares will apply with seven-day advance reservations and ticketing required. Plan ahead and receive an additional discount by ticketing 60 days or more prior to departure. These discounts are valid provided all rules and restrictions are met and are applicable for travel from all points on US Airways' route system.

The above discounts are not combinable with other discounts or promotions, and are valid three days before and after the meeting dates. Additional restrictions may apply on international travel. To obtain these discounts, you or your professional travel consultant must call US Airways' Meeting and Convention Reservation Office toll free at (877) 874- 7687; 8:00 AM – 9:30 PM, Eastern Time.
REFER TO GOLD FILE NO. 60671635
Once your reservations are confirmed, we will mail the tickets to you or suggest several other convenient methods of purchase. If you normally use the services of a travel agent or corporate travel department, please have them place the call so that they may obtain the same advan-tages for you. The special meeting fare is only available through the US Airways Meeting and Convention Reservation Office.
---
The information on this page is maintained by the TMS Meeting Department (mtgserv@tms.org)