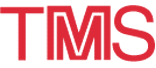 2001 TMS Fall Meeting: Special Events
---
November 4–8, 2001 · TMS FALL MEETING 2001 · Indianapolis, Indiana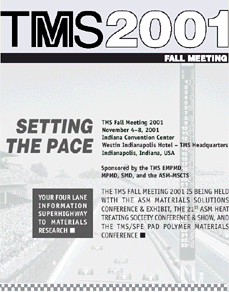 The TMS Fall Meeting 2001 will be headquartered at the Westin Indianapolis Hotel, Indianapolis, Indiana, November 4–8, 2001. All TMS technical sessions and events will take place in the Indiana Convention Center. TMS Committee Meetings will take place at the Westin Indianapolis Hotel. ASM events will take place at the Indianapolis Marriott Downtown.

Focusing on physical metallurgy and materials, the TMS Fall Meeting 2001 will feature a wide array of technical symposia sponsored by The Minerals, Metals & Materials Society (TMS). The TMS 2001 Fall Meeting is being held with the ASM Materials Solutions Conference & Exhibit, the 21st ASM Heat Treating Society Conference & Show, and the TMS/SPE PAD Polymer Materials Conference.The TMS Fall Meeting draws visitors from around the world and is a must for anyone interested in the latest research and development in physical metallurgy and materials. The meeting features numerous technical symposia covering everything from metal-matrix composites, polymers, and computational thermodynamics, friction stir welding, solidifications, materials design, to alloy phases--just to name a few of the many topics discussed.
2001 JOINT CONFERENCE KEYNOTE SESSION
Date: November 5, 2001
Location: Indiana Convention Center

Kicking off the week is an All-Conference Joint Keynote Session, including a presentation by Professor Jan-Anders E. Manson, of the Laboratory of Composite Technology, Ecole Polytechnique Federale de Lausanne, Lausanne, Switzerland, as part of the TMS/SPE PAD Polymer Materials Conference. Monday morning, Professor Manson is speaking on polymer composite technology.
YOUNG LEADERS TUTORIAL LUNCHEON LECTURE
Topic: Soldering Technology in Electronic Package and Assembly
Speaker: Dr. Fay Hua, Intel Corporation
Sponsored by: TMS Young Leaders Committee
Date & Time: November 5, 2001, 12:00 noon-1:30PM
Location: Westin Indianapolis Hotel

Solder alloys have been used extensively in electronic packaging. Unfortunately, most of these alloys contain Pb and are, thus, not environmentally benign. A large-scale effort is underway to replace existing Pb-Sn alloys with Pb-free alloys of similar properties. This talk will focus on new developments and properties of new Pb-free solder alloys.

Dr. Fay Hua received her Ph.D. from Vanderbilt University in Materials Science and Engineering in 1995, and quickly joined the Hewlett Packard Company. She led the Hewlett-Packard company Pb-free conversion effort and was recognized as technical leader in the area. Recently, she joined Intel Corporation as materials technologist, where she is leading and working on all package aspects of soldering technologies. She has authored and co-authored over 40 papers in Pb-free soldering technology in electronic package and assembly.

The Young Leaders Tutorial Lecture includes an optional "brown bag" lunch for $25, which should be purchased in advance at the On-Site Registration Desk. There will be no charge for those attending the lecture who do not wish to purchase the lunch.
ASM/TMS DISTINGUISHED LECTURESHIP IN MATERIALS AND SOCIETY
---

---
Dr. Bhakta B. Rath
---
Date & Time: November 7, 2001, 12:45PM-1:45PM
Location: Indiana Convention Center
Lecturer: Dr. Bhakta B. Rath, Associate Directory, Materials Science and Component Technology Directorate, Naval Research Laboratory
Topic: Abundance of Frozen Clean Energy from the Sea

Abstract:
Methane hydrates occur naturally in ocean sediments as a crystalline solid under proper conditions of temperature and pressure in a water environment. The crystalline frame-work of water molecules captures the methane during crystallization and forms icy solids known as clathrates. Abundant methane hydrate deposits are found along all continental shelves of the world either on the surfaces of sea-beds or shallow depths in the sediment. The total amount of concentrated methane deposits is estimated to be over twice the known amount of carbon in earth's fossil-fuel reserves. With a rapid depletion of oil reserves, the vast hydrate deposits have the potential of becoming the major energy resource for the 21st century. Nearly pure methane, with highest energy density and cleanest combustion of all hydrocarbons, can be easily and economically separated from the hydrate deposits, by simply altering tem-perature, pressure or composition. A number of research and development issues such as: structure, chemistry, thermodynamic and kinetic factors on formation and phase stabilities of hydrates, locations and quantification of hydrate deposits and stability zones, seafloor geophysical proper-ties, nature of methane transport through sediments and environmental impacts need to be well understood before economic exploitation of this vital resource can be real-ized. Current efforts and future plans of a number of na-tions will be discussed.

Biography:
Dr. Rath's academic career includes a Ph.D. from Illinois Institute of Technology. From 1961 to 1965, he held a tenured position at Washington State University. In 1965 he joined the staff of the Edgar C. Bain Laboratory for Fundamental Research of the US Steel Corporation, and in 1972 continued on to head the Metal Physics Research Section of the McDonnell Douglas Research Laborato-ries. He joined the Naval Research Laboratory in 1976 as Head of the Physical Metallurgy Branch, and in 1982 served as Superintendent of the Materials Science and Technology Division while serving as Adjunct Professor at various universities.

He serves as a member of several steering, planning, review, and advisory boards and has received numerous awards and honors, including the 1999 "Presidential Rank Award," presented by The President of the United States for sustained outstanding achievements of a senior executive. Dr. Rath has been one of the primary forces in enhancing research collaborations between India and the United States in the broad field of Physical and Materials Sciences.

Dr. Rath represents the US Navy and the Department of Defense, and serves as the Executive Chairman on "Materials and Processing Technology Group" for the TTCP countries (USA, UK, Australia, Canada, and New Zealand). He has been appointed by the US Secretary of Defense and the Secretary of US Navy to serve as a member of the board to develop strategy and collaborative research on Methane Hydrates with the Department of Interior, Department of Energy, NOAA and NSF.
ADVOCACY FOR MATERIALS SCIENCE AND ENGINEERING—THE WASHINGTON "SCENE"
Date & Time: November 7, 2001, 2:00PM-5:00PM
Location: Indiana Convention Center
A Special session sponsored by the Public and Government Affairs Committee of TMS and the Federal Affairs Committee of ASM International
Co-Chairs: Prof. Diran Apelian, Metal Processing Institute, WPI. Worcester, MA; Mr. Bruce Boardman, Deere and Company, Moline, IL

Federal spending as a percentage of GDP from 1985-1999 has dropped 21% in Engineering and 29% in the Physical Sciences. Since 1986, the number of bachelor's degrees awarded in engineering is down 21.1%. These are dangerous trends. If these trends continue, and if federal research budget does not keep up with the rise of our GNP, there is concern that the United States will not be able to compete in the global marketplace. In contrast, funding for health related initiatives has dramatically increased over the same period, particularly, the NIH budget. We, as a community of materials scientists, engineers, practitioners and industrialists, need to reverse the trend. What are desperately needed are a unified voice, a genuine advocacy for materials science and engineering, and an advocacy to bolster the investments in mathematics, engineering, and the physical sciences. This special session has been organized jointly by the Public and Government Affairs Committee of TMS, and the Federal Affairs Committee of ASM to kick off a proactive initiative for an advocacy voice in Washington.

THREE KEYNOTE SPEAKERS WILL ADDRESS THESE ISSUES IN THIS SPECIAL FORUM.
Prof. Merrilea Mayo: Penn State University, and ASTRA (Alliance for Science and Technology Research in America) Board member. Dr Mayo will address and review trends in the last decade, and will outline ASTRA's agenda. She will also frame the role and responsibilities of materials scientists and engineers, as well as the role of the Professional Societies.
Mr. Curt Supplee: Director of Legislative and Public Affairs, The National Science Foundation (former sci-ence writer for the Washington Post). Mr. Suplee will discuss the public's perception of engineers and scientists, and will provide a glimpse of "ourselves" in the societal mirror … the question being: "do we like what we see? … and if not what do we need to do?"
Ms. Robin Gibbin: National Academy of Engineering. Ms. Gibbin will review and discuss NAE's twenty greatest achievements of the 20th century. She will provide a historical context of the role of Engineering and Society.
---
The information on this page is maintained by the TMS Meeting Department (mtgserv@tms.org)