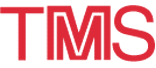 Fifth International Symposium on Superalloys 718, 625, 706, and Derivatives: Registration Information
---
FIFTH INTERNATIONAL SYMPOSIUM ON SUPERALLOYS 718, 625, 706, AND DERIVATIVES
June 17-20, 2001 · Pittsburgh, Pennsylvania
The Fifth International Symposium on Superalloys 718, 625, 706, and Derivatives, sponsored by The Minerals, Metals & Materials Society (TMS), will be held June 17-20, 2001, at the Embassy Suites Hotel, in Pittsburgh, Pennsylvania.

This is the premier symposium devoted exclusively to superalloys 718, 625, and 706. It follows in the tradition of the four previous meetings which were very successful in exploring the state of knowledge on these most important superalloys. The corresponding proceedings volumes are acknowledged as the single-source reference on the progress and problems from 1989 to 1997, and it is expected that this millennial meeting will continue the tradition.
REGISTRATION
The deadline to register in advance for the meeting has passed. To attend, it is now necessary to register at the meeting site.

On-site registration is Sunday through Wednesday, outside Salon B, during the following days and times:
| | |
| --- | --- |
| Sunday, June 17 | 1:00PM-8:00PM |
| Monday, June 18 | 7:00AM-5:00PM |
| Tuesday, June 19 | 7:00AM-5:00PM |
| Wednesday, June 20 | 7:00AM-11:00AM |
As in prior symposia, three luncheons plus the symposium proceedings will be included with the full conference registration fee. Superalloys 718, 625, 706, and Derivatives attendees, including authors, presenters, and session chairs are required to register. On-site registration fees are as follows, Members $575, Non-Members $625, and Students $200.

Badges must be worn at all times to gain access to the technical sessions and the social functions.
POLICIES
Refund Policy: The deadline for all refunds was June 8, 2001. No refunds will be issued at the meeting. All fees and tickets are non-refundable after the June 8, 2001, deadline.

Audio/Video Recording Policy: TMS reserves the right to any audio and video reproduction of all presentations at every TMS-sponsored meeting. Recording of sessions (audio, video, still-photography, etc.) intended for personal use, distribution, publication, or copyright without express written consent of TMS and the individual authors is strictly prohibited. Contact the TMS Technical Programming Department to obtain a copy of the waiver release form.

Americans With Disability Act: TMS strongly supports the federal Americans with Disabilities Act (ADA) that prohibits discrimination against, and promotes public accessibility for those with disabilities. In support of this act, we ask those attendees requiring specific equipment or services to contact the TMS Meeting Services Department to advise specific needs in advance.
---
The information on this page is maintained by the TMS Meetings Department (mtgserv@tms.org).