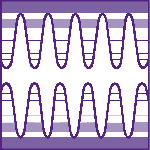 IMPORTANT INFO
Author Acceptance Notification
April 4, 2005
Late News Submission Deadline
June 3, 2005
Early Registration Ends
June 8, 2005
Welcoming Reception
June 22, 2005
General Info
The Electronic Materials Conference (EMC) covers significant topics in the areas of preparation and characterization of electronic materials. Individuals actively engaged or interested in electronic materials research and development find this conference invaluable. With an international audience of 20 percent, each year more than 500 students, professors, scientists, engineers, researchers, technicians, R&D managers, and product managers attend.
EMC is being held at the University of California, Santa Barbara, California, June 22-24, 2005. This conference is being coordinated with the Device Research Conference (DRC) sponsored by IEEE, which takes place June 20-22 at the same location.
A message board is located near the registration desk in the Multicultural Lounge. Messages are posted in this area throughout the conference.
FOR MORE INFORMATION . . .
For more information regarding conference logistics, please contact:
Michael Packard, CMP
Manager, TMS Meeting Services
TMS
184 Thorn Hill Road
Warrendale, PA 15086
Telephone (724) 776-9000, ext. 225
Fax (724) 776-3770
E-mail packard@tms.org