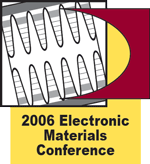 IMPORTANT INFO
Final Program
(PDF Download)
Housing Reservation Deadline
May 26, 2006
Early Registration Ends
June 12, 2006
Welcoming Reception
June 27, 2006
Honors and Awards
2006 JOHN BARDEEN AWARD WINNER
Established in 1994, this award recognizes an individual who has made outstanding contributions, and is a leader, in the electronic materials field.
Recipient: Isamu Akasaki
Citation: For his pioneering work and key discoveries in the field of GaN and related materials which has enabled their widespread development and use.

Isamu Akasaki is a professor at Meijo and Nagoya universities in Japan, where his research over the past 25 years has surrounded compound semiconductor materials and devices, with special emphasis on nitride semiconductors. He has published more than 580 scientific papers, edited nine books and received a total of 133 patents, including 65 for Group III Nitrides. Dr. Akasaki has also received numerous awards including selection by the Japanese government as a "Person of Cultural Merits" in 2004.
"Dr. John Bardeen is a great scientist with outstanding achievements in two fields of electronic materials in the last century, whom I highly respect. I deem it indeed a great honor to be selected as a recipient of the TMS John Bardeen Award. Moreover, all of the past recipients of this prestigious award have made significant achievements and are excellent leaders in the field of electronic materials; they have helped promote the importance of this award. It is a real honor for me to be among these distinguished scientists."

You are encouraged to submit a nomination for the TMS 2008 John Bardeen Award.
Who was John Bardeen?
John Bardeen's career of theoretical and experimental research set the foundation for the current state of understanding of electronic materials. Two areas where Bardeen had great impact were the invention and development of the solid-state transistor and the theory that developed greater understanding of superconductivity.

For Award Criteria and Additional Information
Pick up a nomination form at the EMC registration desk, or download the Award Nomination Form (PDF) and follow the attached instructions.
For information on additional TMS awards, please visit the TMS Honors and Awards web page.