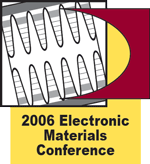 IMPORTANT INFO
Final Program
(PDF Download)
Housing Reservation Deadline
May 26, 2006
Early Registration Ends
June 12, 2006
Welcoming Reception
June 27, 2006
Registration
This conference will be held at the Penn Stater Conference Center, June 28-30, and is being coordinated with the Device Research Conference held at the same location, June 26-28. Badges will be accepted by both conferences on Wednesday, June 28.
ADVANCED REGISTRATION IS CLOSED
Please register on-site. The EMC registration fee includes the welcoming reception, coffee breaks, Thursday banquet, all technical sessions and admission to the EMC exhibition. One-day registration does not include the Thursday banquet.
On-site registration is available at an increased rate. On-site registration and advance registrant badge pick-up are located in the Penn Stater Conference Center during the following hours:
| | |
| --- | --- |
| Tuesday, June 27 ... | 3:00 PM to 5:00 PM |
| Wednesday, June 28 ... | 7:30 AM to 5:00 PM |
| Thursday, June 29 ... | 7:30 AM to 4:00 PM |
| Friday, June 30 ... | 7:30 AM to 10:00 AM |
Americans With Disabilities Act

TMS strongly supports the federal Americans with Disabilities Act (ADA) which prohibits discrimination against, and promotes public accessibility for, those with disabilities. In support of, and in compliance with, ADA, we ask those requiring specific equipment or services to contact TMS Meeting Services in advance.
Audio/Video Recording Policy
TMS reserves the right to all audio and video reproductions of presentations at TMS sponsored meetings. Recording of sessions (audio, video, still photography, etc.) intended for personal use, distribution, publication, or copyright without the express written consent of TMS and the individual authors is strictly prohibited.
Campus Smoking Policy
Pennsylvania State University prohibits smoking in all buildings, including residence halls. Smoking is permitted in designated areas outside.
Computer/Network Facilities
The Penn Stater Conference Center has complimentary wireless Internet access throughout the facility. Ethernet connections in the sleeping rooms are also complimentary; Ethernet cables are located at the front desk. Additionally, there are a limited number of computers available on level one to check e-mail on a complimentary basis.
Message Board
A message board located near the on-site registration desk on the first level of the conference center will be available for use throughout the conference.
Registration Refund Policy
A written request must be sent to TMS, 184 Thorn Hill Road, Warrendale, PA 15086, USA, postmarked no later than June 12, 2006. A $75 processing fee is charged on all cancellations. No refunds are issued after the deadline date.