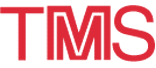 Environmental Degradation of Materials in Nuclear Power Systems—Water Reactors: Accompanying Persons Tours
---
August 1-5,1999  ·  Newport Beach, California
NINTH INTERNATIONAL CONFERENCE ON ENVIRONMENTAL DEGRADATION OF MATERIALS IN NUCLEAR POWER SYSTEMS—WATER REACTORS

The Minerals, Metals and Materials Society (TMS), dedicated to the advancement of scientific and engineering knowledge for materials-centered technologies, is proud to sponsor the Ninth International Conference on Environmental Degradation of Materials in Nuclear Power Systems—Water Reactors which will be held in Newport Beach, California, August 1-5, 1999, at the Newport Beach Marriott Hotel & Tennis Club. Co-sponsoring the conference are the National Association of Corrosion Engineers and the American Nuclear Society.
ACCOMPANYING PERSONS TOURS
TMS has arranged customized tours for attendees and/or accompanying persons during the conference. To register, please complete the accompanying personf's tour registration form, downloadable as a PDF file, using the free software, Adobe Acrobat Reader. Print, complete, and submit the form to PRA Destination Management. All tour tickets will be held in your name, for pickup at the tour desk in the registration area on-site during the meeting. Please note that reservations will be handled on a first-come basis; therefore, attendees wishing to participate are encouraged to reserve early in order to assure availability of the tours. All details of the tours are being handled by:

PRA-Destination Management
150 Paularino, Suite 155
Costa Mesa, CA 92626
Telephone (714) 755-1500; fax (714) 755-1511

The deadline for pre-registration for the tour program is July 12, 1999. Tours will not be scheduled unless sufficient pre-registration is received. Staff from PRA Destination Management will be available in the registration area during the following times:

Sunday, August 1, 4:00 p.m.-6:00 p.m.
Monday, August 2, 8:00 a.m.-12:00 noon
Tuesday, August 3, 8:00 a.m.-12:00 noon
Wednesday, August 4, 8:00 a.m.-9:30 a.m.



---
TOUR #1: BEST OF NEWPORT
Date: Sunday, August 1, 1999
Time: 12:00 p.m.-4:30 p.m.
Cost: $40.00 per person
Limit: 45 persons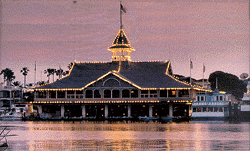 Newport Harbor Pavillion

Your day will start with a delightful one-hour cruise of Newport Harbor. One of the largest natural harbors in the United States and anchorage for 12,000 pleasure crafts, Newport Harbor is home for yacht clubs, beachfront mansions, and sportfishing fleets. Film crews in the silent screen era used its beautiful coastline to double as a Caribbean pirate's hidden cove. Today, Newport is one of California's busiest harbors, filled with dozens of colorful sailboats and majestic yachts.

Time has been allotted for exploring Balboa Island. This quaint and charming island community located in Newport Harbor is a popular attraction for visitors and residents alike. Best seen on foot, this picturesque island is home to more than 70 gift shops, galleries and restaurants. Your final stop will be Roger's Gardens. Perched high on a hilltop overlooking the coastline, Roger's Gardens is a 7-acre landscape display, a retail nursery, and interior design studio all rolled into one. Roger's Gardens employs a friendly staff, well-versed in any phase or style of gardening.

Tour features:
One-hour scenic tour of Newport Harbor aboard the Pavilion Paddy Boat
Free time for exploring in Balboa Island
Free time for shopping and browsing at Rogers Gardens
Uniformed PRA staff to assist guests and coordinate activity
Transportation via deluxe, air-conditioned motorcoach
Please take notice that this tour consists of a lot of walking.

---
TOUR #2: MAGIC KINGDOM

Date: Monday, August 2, 1999
Time: 9:00 a.m.-5:00 p.m.
Cost: $78.00 per person
Limit: 45 persons

Known as "the happiest place on earth," Disneyland is home to such traditional characters as Mickey and Minnie Mouse, and mega-stars such as Aladdin and Beauty and The Beast. Spend the day meeting these endearing characters experiencing a variety of animated rides, nonstop attractions and exhibits that appeal to visitors of all ages. Main Street 1890 in Home Town, U.S.A. is your first stop in the park. Here you can relive the days of horse-drawn streetcars, barbershop quartets, ice cream parlors and silent movie houses.

Then, see your life splash before your eyes as you plunge five stories straight down Splash Mountain. Sail away with the raucous Pirates of the Caribbean. Strap yourself in for the thrills and spills of Space Mountain. Experience the joy of childhood as you stroll through Disneyland's Toon Town where you can interact with everything from talking manholes and rubber fire hydrants to dancing dishes and spinning flowers. Be sure to hop on a "doom buggy" for 999 happy haunts in the Haunted Mansion. And please don't miss Disneyland's newest attraction—Swirling rivers of molten lava. Deadly booby-traps. Swarms of snakes, bugs and rats. Poison darts that part your hair. A 50-ton rolling boulder of bone-crushing granite, with your name on it. And a trusty troop carrier to get you through it all. Ride the fine line between fright and fun on The Indiana Jones Adventure. Enjoy the Disney magic!

Tour features:
One-day admission to Disneyland
Uniformed PRA staff to assist guests and coordinate activity
Transportation by deluxe, air-conditioned motorcoach
---
TOUR #3: CALIFORNIA OLD AND NEW

Date: Tuesday, August 3, 1999
Time: 9:00 a.m.-3:00 p.m.
Cost: $53.00 per person
Limit: 45 persons

Experience the rich history and local culture of the Southern California Riviera. The artist colony of Laguna Beach is a shopper's paradise with shopping concentrated in a charming area along Pacific Coast Highway on Forest Avenue, near Main Beach. Acquire a very special insight into the world of art as you explore some of the city's premier galleries and studios where you'll find art to suit every taste and decor.

Delight in the open-air bazaar at the Pottery Shack offering bargain shopping with an ocean view. Opened during the depression year of 1936 by two brothers, the original friendly charm continues to draw customers from around the world.

Your next stop is lunch at El Adobe. Lovers of Mexican food will enjoy El Adobe restaurant, whose original building dates from 1778. This historic location, once a stagecoach stop on "El Camino Real" (the King's Highway), remains a comfortable wayside inn, enriched with old-fashioned California hospitality. Following lunch, participants will visit the Mission San Juan Capistrano, founded by Father Junipero Serra in 1776, the seventh in the chain of Franciscan missions built along the California coast. Mission San Juan Capistrano, the most romantic and famous of California's 21 missions is also famous for the annual migration of the swallows to this site on March 19th.

Tour features:
Scenic drive into Laguna Beach
Visit to various art galleries
Visit to the Pottery Shack
Free time for browsing and shopping in Laguna Beach
Lunch at El Adobe
Docent-guided tour of the Mission San Juan Capistrano
Uniformed PRA staff to assist guests and coordinate activity
Transportation by deluxe, air-conditioned motorcoach
---
TOUR #4: PAINTING LESSONS

Date: Wednesday, August 4, 1999
Time: 9:00 a.m.-11:30 a.m.
Cost: $44.00 per person
Limit: 35 persons

Join a local artist at the hotel for a presentation and casual, hands-on painting lesson. You will learn how to simplify complicated artist techniques and procedures resulting in your very own masterpiece. Come develop the spirited use of color and cultivate your own style. It's easier than you think.

Lesson features:
Two and one-half hour presentation/painting instruction with local artists at the hotel
Art supplies for guests to paint
Painting smock for each guest
Uniformed PRA staff to assist guests and coordinate activity
---
The information on this page is maintained by the TMS Customer Service Center (csc@tms.org).