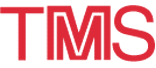 Environmental Degradation of Materials in Nuclear Power Systems—Water Reactors: Housing and Destination Information
---
August 1-5,1999  ·  Newport Beach, California
NINTH INTERNATIONAL CONFERENCE ON ENVIRONMENTAL DEGRADATION OF MATERIALS IN NUCLEAR POWER SYSTEMS—WATER REACTORS

The Minerals, Metals and Materials Society (TMS), dedicated to the advancement of scientific and engineering knowledge for materials-centered technologies, is proud to sponsor the Ninth International Conference on Environmental Degradation of Materials in Nuclear Power Systems—Water Reactors which will be held in Newport Beach, California, August 1-5, 1999, at the Newport Beach Marriott Hotel & Tennis Club. Co-sponsoring the conference are the National Association of Corrosion Engineers and the American Nuclear Society.
HOUSING ACCOMODATIONS
The Headquarters Hotel and the official site of the Ninth International Conference on Environmental Degradation of Materials in Nuclear Power Systems-Water Reactors is the Newport Beach Marriott Hotel & Tennis Club, in Newport Beach, California. The hotel offers resort accommodations with large rooms, which are specifically designed for the business traveler.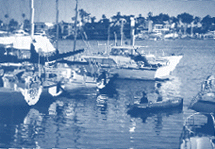 Newport Beach Harbor

As a special consideration for those attendees who may wish to take advantage of a few extra days in the Newport Beach area, the special conference rate is offered three days prior to and three days following the symposium, based on availability.

For recreation and leisure, the hotel has two outdoor pools, a whirlpool, an exercise room, and eight lighted tennis courts. Nearby is a jogging trail, a golf course, and the beach. Fashion Island, located nextdoor to the hotel, is a beautiful Mediterranean-style outdoor center, overlooking the glistening Pacific Ocean, which encompasses 200 stores, over 40 restaurants, 2 food courts, a 7-screen cinema, a farmer's market, and outdoor concerts.

For your dining pleasure, JW's California Grill specializes in fresh seafood and American cuisine for breakfast, lunch, and dinner. The Pool Bar serves sandwiches and snacks for lunch and the View Lounge & Sushi Bar offers cocktails, snacks, appetizers and sushi. These restaurants, along with the extensive selection within the Fashion Island complex, give many options for dining within easy walking distance.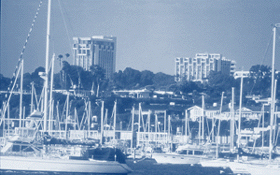 Located just across the street from the exclusive Fashion Island, each of the hotel's guest rooms and suites has a private patio or balcony—many with breathtaking ocean views.

Since it is now past the July 12th deadline, the discounted rates for the conference attendees may not be available. Check-in time is time is 4:00 p.m., check-out time is 12:00 noon. You may still, however, make accommodation reservations, based on availability. Simply download the housing reservation form available in PDF format, and viewable using the free software Adobe Acrobat Reader. Complete, and submit your form directly to:

Newport Beach Marriott Hotel & Tennis Club
900 Newport Center Drive
Newport Beach, California 92660
Fax (949) 640-5055
ABOUT NEWPORT BEACH
Newport Beach is a harbor city situated on the ocean between Los Angeles and San Diego. A year-round Mediterranean climate should produce sunny days and pleasant nights in early August with high temperatures near 80 degrees Fahrenheit. The area boasts countless outdoor activities, renowned theme parks, local artist communities, world-class dining and shopping, and much more. The conference hotel is located less than a mile from the ocean and is just 10 minutes from the John Wayne/Orange County Airport and about 55 minutes by car from the Los Angeles International Airport.
---
The information on this page is maintained by the TMS Customer Service Center (csc@tms.org).