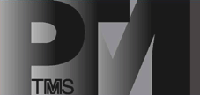 IMPORTANT INFO
Electronic Manuscripts Due - Contributed Papers
June 24, 2005 (6 pg limit)
Electronic Manuscripts Due - Invited Papers
July 15, 2005 (18 pg limit)
Revised deadlines are firm and papers will not be accepted after the dates.
Meeting Policies
Please review and adhere to the following important meeting policies.
AUDIO/VIDEO RECORDING POLICY
TMS reserves the right to any audio and video reproduction of all presentations at every TMS-sponsored meeting. Recording of sessions (audio, video, still photography, etc.) intended for personal use, distribution, publication, or copyright without the express written consent of TMS and the individual authors is strictly prohibited. Contact the TMS Technical Programming Department to obtain a copy of the waiver release form.
AMERICANS WITH DISABILITIES ACT
TMS strongly supports the federal Americans with Disabilities Act (ADA), which prohibits discrimination against, and promotes public accessibility for those with disabilities. In support of and compliance with this Act, we ask that those requiring specific equipment or services contact the TMS Meeting Services Department and advise of any specific requirements in advance.
Registration refunds require a written request, which must arrive at TMS no later than May 9, 2005. A $75 processing fee will be charged for all registration cancellations.
Housing cancellations must be made seventy-two (72) hours prior to arrival to avoid first night's billing.
FOR MORE INFORMATION . . .
Registration and housing questions may be directed to:
TMS Meeting Services
184 Thorn Hill Road
Warrendale, PA 15086
Toll Free (800) 759-4867 (U.S./Canada only) or
Telephone (724) 776-9000, ext. 256
Fax (724) 776-3770
mtgserv@tms.org