Superalloys 2008: Technical Program
This symposium will cover all aspects of the development, production, behavior and integration of superalloys, and related high temperature materials, into gas turbines for aircraft, power generation and other applications.
Papers will be presented on cast, wrought and powder superalloys and associated coating systems. Behavioral studies in these areas will also be discussed:
solidification
processing
environmental properties
mechanical behavior
alloy development
life prediction methodologies
modeling and simulation
performance of materials in service environments
high temperature coatings
joining and repair techniques
Emphasis is placed on the perspective of the customer, e.g., the airlines, military, and power generation utilities.
Papers on current trends in customer requirements, and the latest response of the superalloys community to customer challenges, will be highlighted.
Symposium Format
Sunday Evening: Keynote Speaker
Monday Through Thursday Noon: Technical Sessions
Presentations: Oral and Interactive
Language: English
Authors may view this sample electronic version of the 'best poster' from the 2004 Superalloys meeting. Click on the image below to zoom in or download the sample poster presentation.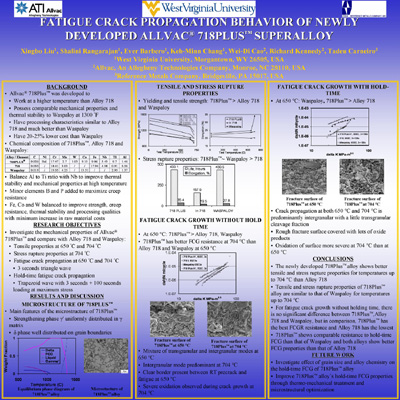 Publication
All accepted papers will be published in the proceedings, Superalloys 2008, which will be distributed at the symposium in both hardcover book and CD-ROM.
Click here for manuscript submission guidelines and instructions. Deadline is February 25, 2008.
Questions about the technical program? Contact the program chairman.
Professor Roger C. Reed
University of Birmingham
Telephone: +44 121 414 7080
E-mail: r.reed@bham.ac.uk