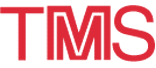 About the 1996 International Symposium on Extraction and Processing for the Treatment and Minimization of Wastes: Luncheon Package
---
2ND INTERNATIONAL SYPOSIUM ON EXTRACTION AND PROCESSING FOR THE TREATMENT AND MINIMIZATION OF WASTES
October 27-30, 1996 · Phoenix, Arizona
For the convenience of attendees during the limited break time for lunch on Tuesday, a luncheon is being offered in addition to the meeting registration fee.
A pre-set lunch may be purchased for a price of $21. Please register for this option on the meeting registration form.

---
The information on this page is maintained by TMS Customer Service Center (csc@tms.org).