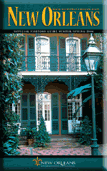 New Orleans Marriott
The NEW ORLEANS MARRIOTT is the headquarters hotel of MS&T '04. All conference activities will take place in this complex. Special conference rates at significantly reduced fees have been contracted by the sponsoring society for conference attendees. To receive these rates, use the HOUSING RESERVATION FORM for the New Orleans Marriott. For your convenience and to help the meeting successfully meet the room block commitments that it has made with the hotel (to keep conference costs as low as possible when using a world-class facility), we urge you to make your reservation with the NEW ORLEANS MARRIOTT.
New Orleans the City
Step back in time and take a stroll in the French Quarter, Jackson Square, visit the plantations, or take a swamp tour. The architecture, cuisine, and ambiance of New Orleans are unsurpassed. There are more great restaurants in this city than there are hours of the day to eat. Two favorites are Cajun and Creole cooking. When it comes to culture, New Orleans is a world all of its own. This cosmopolitan community is a blend of French, Spanish, Indian, Anglo and African heritages. Their influences are seen in architecture throughout the city or can be explored at one of the many museums. Some of the oldest treasures of New Orleans are discovered in the French Quarter, a unique neighborhood of courtyard homes, shops and restaurants, all as special as the people who live there. Wandering cobblestone streets, wrought iron-laced balconies, street performers and live jazz bands. You'll also find unique art galleries, accent shops and three shopping centers downtown, steps away from the hotels.
US Airways Offer Official carrier for attendees to MS&T '04.
US Airways agrees to offer an exclusive low fare for MS&T '04 attendees traveling to New Orleans.
This special fare will offer a 5% discount off First or Envoy Class and any published US Airways promotional round trip fare. A 10% discount off unrestricted "Y" or B8US/B4AUS fares applies with 7 day advance reservations and ticketing required. Plan ahead and receive an additional discount by ticketing 60 days or more prior to departure. These discounts are valid provided all rules and restrictions are met and are applicable for travel from all points on US Airways' route system. These discounts are not combinable with other discounts or promotions. US Airways will also offer exclusive negotiated rates for attendees who are unable to meet the restrictions of the promotional round trip fares. Certain restrictions, including advance purchase requirements, may apply. Additional restrictions may apply on international travel. Discounts are valid September 23 through October 2, 2004.
To obtain these MS&T '04 discounts, you or your professional travel consultant must call US Airways' Group and Meeting Reservation Office toll free at (877) 874-7687; 8:00 am–9:30 pm, Eastern Time. REFER TO GOLD FILE NO. 78672843
Once your reservations are confirmed, US Airways will mail the tickets to you or suggest several other convenient methods of purchase. If you normally use the services of a travel agent or corporate travel department, please have them place the call so that they may obtain the same advantages for you. The special meeting fare is only available through the US Airways Group and Meeting Reservation Office.
Discount Car Rental
Hertz Rent-a-Car has been selected as the Official Car Rental company for MS&T '04. Meeting rates listed below are based on roundtrip rentals, with free unlimited mileage, are guaranteed one week prior through one week after the actual meeting dates and are subject to availability. Rates are available from all New Orleans locations. Advance reservations may be made by booking online at HERTZ.COM or calling the Hertz reservations line at 1-800-654-2240 in the US; 1-800-263-0600 in Canada; International—contact your nearest Hertz reservation center or call +1-405-749-4434. Identify yourself as an attendee of MS&T '04 and reference the following CV number: CV#02QJ0011. Other terms and conditions may apply.
Avis Rent-a-Car. US Airways group and meeting customers may take advantage of special negotiated rates with Avis Rent-A-Car. Please call Avis, toll free at (866) 629-6995 and Reference AWD K609400 for additional information.
Other Important Links
For more information about visiting New Orleans and the New Orleans Marriott, visit the following links.