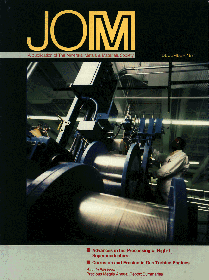 JOM: Volume 46, Number 12--December 1994

ABOUT THE COVER
As work continues to manufacture high. critical temperature superconductors for applications the cover shows American Superconductor Corporation's (Westborough, Massachusetts) rolling mill, which is used to create the internal architecture and external shape necessary to transform superconducting material into usable wire. Daily, the company produces approximately 275 meter lengths of wire. This issue's coverage of superconductivity begins on page 14.



---
SUPERCONDUCTORS
Commentary:
Emerging Sensors for the Intelligent Processing of Materials [p. 11]
Amit Goyal

Research Summary:
Models for Long-Range Current Flow in Bulk Oxide Superconductors [pp. 14-19]
D.M. Kroeger and A. Goyal

Research Summary:
Visualizing Current Flow in High-Tc Superconductors [pp. 20-22]
David Larbalestier, X.Y. Cai, Harry Edelman, M.B. Field, Yi Feng, Jeff Parrell, Alexander Pashitski, and Anatoly Polyanskii

Research Summary:
Recent Advances in Bismuth-Based Superconductors [pp. 23-25]
U. Balachandran, A.N. Iyer, J.Y. Huang, R. Jammy, P. Haldar, J.G. Hoehn, Jr., G. Galinski, and L.R. Motowidlo

Overview:
The Processing, Properties, and Prospects of Tl-1223 [pp. 26-27]
J.E. Tkaczyk

Research Summary:
Advances in the Processing and Properties of YBa2Cu4O [pp. 28-30]
L.J. Masur, E.R. Podtburg, C.A. Craven, A. Otto, Z.L. Wang, and D.M. Kroeger

Overview:
Progress in the Melt Texturing of RE-123 Superconductors [pp. 31-33]
Paul J. McGinn
CORROSION AND EROSION
Commentary:
High-Temperature Corrosion and Erosion in Gas Turbine Engines--Where Do We Stand? [p. 34]
V. Srinivasan

Overview:
Ranking Protective Coatings: Laboratory vs. Field Experience [pp. 35-38]
Jeffrey A. Conner and William B. Connor

Research Summary:
Turbine Airfoil Degradation in the Persion Gulf War [pp. 39-41]
James L. Smialek, Frances A. Archer, and Ralph G. Garlick

Overview:
Forming Continuous Alumina Scales to Protect Superalloys [pp. 42-46]
N. Birks, G.H. Meier, and F.S. Pettit

Overview:
Hot Corrosion of Materials: Fundamental Studies [pp. 47-55]
Robert A. Rapp and Y.S. Zhang
DEPARTMENTS
In the Final Analysis [p. 2]
News & Update [pp. 4-10]
Metallurgraphics [p. 56]
Material Matters: Best Mode Disclosure--Comply or Invalidate Your Patent [p. 61]
Meetings Calendar [pp. 63-67]
Consultants Directory [p. 85]
Classified [pp. 85-87]
Retrospect [p. 88]
FORUM
Letters to the Editor [p. 62]
Book Review [p. 62]
ALSO IN THIS ISSUE
TMS News [pp. 57-59]
1995 TMS Annual Meeting Registration Form [p. 70]
1995 TMS Annual Meeting Housing Form [p. 71]
Author and Subject Indexes to JOM, Volume 46 [pp. 72-84]
Statement of Ownership [p. 87]
Professional Preface [insert]
Division News: Annual Meeting Edition [insert]
---
Direct questions about this or any other JOM page to jom@tms.org.