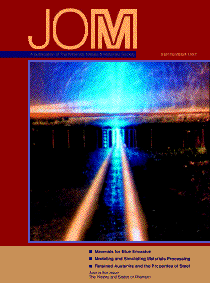 TABLE OF CONTENTS
Volume 49, Number 9--September 1997

ABOUT THE COVER
In this issue, recent advances in materials growth, characterization, and device fabrication in the III-nitride system for blue-light emission are detailed. One of the articles describes work at Cree Research, where scientists have developed a high-brightness, blue laser fabricated from GaN epitaxially grown on 6H-SiC, as illustrated in the cover photograph of a set of lasers contacted with microprobes. (Photograph courtesy of Cree Research)

Click on the cover to see a full-page reproduction

---
---
Presentation of This Page Supported by
Click on the logo to see a full-page reproduction of the ad that appears in the September 1997 issue.
---

---
BLUE-EMISSION MATERIALS
Commentary:
Characterizing and Fabricating Materials for Blue Emission [pp. 17,83]
John M. Parsey, Jr.

Overview:
III-V Nitride Semiconductors for High-Performance Blue and Green Light-Emitting Devices [pp. 18-23]
Daniel Steigerwald, Serge Rudaz, Heng Liu, R. Scott Kern, Werner Götz, and Robert Fletcher

Research Summary:
Developing Nitride-Based Blue LEDs on SiC Substrates [pp. 24-26]
John Edmond and Jeffrey Lagaly

Research Summary:
The X-Ray Characterization of InGaN and AlGaN Heterostructures for Blue-Light Emitters [pp. 27-30]
C.J. Eiting, P.A. Grudowski, and R.D. Dupuis
MODELING MATERIALS PROCESSING
Commentary:
Perspectives on New Design Tools for Material Processes [pp. 32-33]
James C. Malas and W. Garth Frazier

Overview:
Incorporating Crystallographic Texture in Deformation Process Simulations [pp. 34-41,83]
Paul R. Dawson and Armand J. Beaudoin, Jr.

Overview:
The Integrated Multiscale Modeling of Diamond Chemical Vapor Deposition [pp. 42-47]
David J. Srolovitz, David S. Dandy, James E. Butler, Corbett C. Battaile, and Paritosh

Research Summary:
Process Modeling with Neural Networks for Pulsed GMAW Braze Welds [pp. 49-53]
Dawn White and Jerald Jones
RETAINED AUSTENITE IN STEEL
The Formability of Austenitic Stainless Steels [pp. 54-58]
S.F. Peterson, M.C. Mataya, and D.K. Matlock

Thermomechanical Processing Effects on C-Mn-Si TRIP Steels [pp. 59-61]
S. Yue, A. DiChiro, and A. Zarei-Hanzaki

The Modeling of Retained Austenite in Low-Alloyed TRIP Steels [pp. 62-65,83]
G. Reisner, E.A. Werner, P. Kerschbaummayr, I. Papst, and F.D. Fischer

The Effects of Austenite on the Cryogenic Mechanical Properties of Fe-13Mn-3Al Steel [pp. 66-68]
Hyung Chul Lee and Hu-Chul Lee

The Effect of Retained Austenite on Contact Fatigue in Cr-Ni-W Carburized Steel [pp. 69-71,83]
Bertold B. Vinokur and Alexandr L. Geller
FEATURES
Conference Review:
Rhenium '97: Landmarks, State of the Art, and Outlook [pp. 14-15]
Boris D. Bryskin

Tutorial:
Investigating Diffusion Using MAPLE, Part II: Thermochemical Treatment [pp. 72-73]
Savko Malinov
DEPARTMENTS
In the Final Analysis [p. 2]
News & Update [pp. 8-13,16]
Material Matters: Invention Marketing: Let the Seller Beware [p. 74]
Meetings Calendar [pp. 79-82]
Consultants Directory [pp. 85-87]
Classifieds [pp. 85-87]
Retrospect [p. 88]
ALSO IN THIS ISSUE
Annual Meeting Registration Form [p. 4]
Annual Meeting Housing Form [p. 6]
JOM Subscription Form [p. 15]
Change of Address Form [p. 68]
TMS News [pp. 75-77]
Upcoming Editorial Topics [p. 78]

---
Direct questions about this or any other JOM page to jom@tms.org.