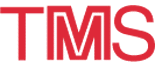 2000 TMS Annual Meeting: Author's Information
---
March 12—16 · 2000 TMS ANNUAL MEETING · Nashville, Tennessee

During the week of March 12-16, 2000, the 129th Annual Meeting & Exhibition of The Minerals, Metals & Materials Society (TMS), will be held in Nashville, Tennessee, at the Opryland Hotel and Convention Center.
AUTHOR'S COFFEE
Attention speakers, session chairs and organizers! Your attendance is required on the day of your session, in order to coordinate any last minute changes and instructions before the presentations begin. Authors' coffee will be held each morning, 7:15-8:15am in the Convention Center, in the rear of Ryman Exhibit Hall C1.
AUDIO VISUAL HEADQUARTERS AND SLIDE PREVIEW
Speakers may preview their slides before their technical presentations in the slide preview area located in the Convention Center, Delta Lobby B, beginning Sunday, March 12 through Thursday, March 16. Arrangements must be made ahead of time to use and view special order equipment. Contact Peggy Weiss for additional equipment.
SESSION/STUDENT MONITORS
All monitors are required to report to the authors' coffee, each day they are scheduled to monitor sessions. Each monitor must check in at the desk to obtain the session sheets, then report to the assigned session table to meet with the speakers and session chairs. Authors' coffee begins at 7:15am, in the Convention Center, in the rear of Ryman Exhibit Hall C1. Monitors that do not check in before 8:00am will have their sessions reassigned. Any students wishing to monitor, but have not previously completed a work form, may report to the authors' coffee by 8:00am.
ATTENTION ORGANIZERS, EDITORS, AND TECHNICAL COMMITTEE CHAIRS
At a special workshop on Tuesday, March 14, 12:30-1:30pm in the Delta Lobby B (slide preview area). TMS will demonstrate its Conference Management System (CMS) and review the editors' responsibilities. This presentation will familiarize organizers with the direct electronic submission of abstracts and the organization of symposia via the TMS World Wide Web site. All organizers of present and future symposia, as well as technical committee members are strongly encouraged to attend. Contact Peggy Weiss for additional information.
---
The information on this page is maintained by the TMS Meetings Department (mtgserv@tms.org).