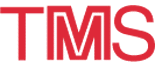 2000 TMS Annual Meeting: Concurrent Publications
---
March 12–16 · 2000 TMS ANNUAL MEETING · Nashville, Tennessee

During the week of March 12-16, 2000, the 129th Annual Meeting & Exhibition of The Minerals, Metals & Materials Society (TMS), will be held in Nashville, Tennessee, at the Opryland Hotel and Convention Center.

The conference-associated publications listed here may be pre-ordered when registering for the meeting or may be acquired by visiting the society's publications booth at the conventional hall. Books that are pre-ordered will be available for pick-up at the site; or you may indicate on the registration form that you wish to have them mailed directly to you.

Each of the following titles contains the proceedings of selected symposia that will are planned from presentation during the 2000 TMS Annual Meeting & Exhibition. The TMS Publications Sales Area. will contain display copies of the following concurrent proceedings volumes as well as more that 100 other titles, ranging from proceedings and textbooks to monographs, and CD-ROMs, many at reduced prices.
---
---
The information on this page is maintained by the TMS Meetings Department (mtgserv@tms.org).