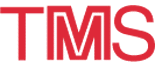 2000 TMS Annual Meeting: Special Drawings
---
March 12-16 · 2000 TMS ANNUAL MEETING · Nashville, Tennessee

During the week of March 12-16, 2000, the 129th Annual Meeting & Exhibition of The Minerals, Metals & Materials Society (TMS), will be held in Nashville, Tennessee, at the Opryland Hotel and Convention Center.
ATTENTION: All Meeting Attendees!
Stop by the Member Services Desk and drop your business card in the bowl for a chance to win the grand prize of $500! Drawing to be held on Thursday morning, March 16, at 9:00 a.m.
ENTER TO WIN: Palm Pilot Giveaway
Check your registrant packet for two tickets for the daily raffles of a Palm Pilot.
TO ENTER: Visit the exhibit hall and deposit your ticket for a chance to win the daily drawing for a Palm Pilot.
The Palm Pilot Daily Drawing is sponsored by Permatech.
Note: Full-Conference Registrants are eligible.
---
The information on this page is maintained by the TMS Meetings Department (mtgserv@tms.org).