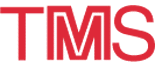 2000 TMS Annual Meeting: Registration Information
---
March 12-16 · 2000 TMS ANNUAL MEETING · Nashville, Tennessee

During the week of March 12-16, 2000, the 129th Annual Meeting & Exhibition of The Minerals, Metals & Materials Society (TMS), will be held in Nashville, Tennessee, at the Opryland Hotel and Convention Center.

The deadline to register in advance for the meeting has passed. To attend, it is now necessary to register at the meeting site. Registration will be held in the Ryman Hall in the Opryland Hotel and Convention Center during the following hours:
Sunday, March 12, 11:00 a.m. - 6:00 p.m.
Monday, March 13, 7:00 a.m. - 5:00 p.m.
Tuesday, March 14, 7:00 a.m. - 5:00 p.m.
Wednesday, March 15, 7:00 a.m. - 5:00 p.m.
Thursday, March 16, 7:00 a.m. - 10:00 a.m.
Advance Registrant Packet Pick Up: Advance registrants should pick up their registration packets at the Ryman Hall in the hotel during the registration hours. Full payment of registration fees and social function tickets must accompany the completed Advance Registration form. For questions on advance registration, please contact:
TMS Meetings Services
184 Thorn Hill Road
Warrendale, PA 15086
Telephone (724) 776-9000, ext. 243
Fax (724) 776-3770; e-mail mtgserv@tms.org
NONMEMBER REGISTRANTS ONLY
If you attend the 129th TMS Annual Meeting and register at the nonmember fee, you will automatically receive a one-year complimentary introductory associate membership for 2000. Associate members receive all of the same benefits as members, including a subscription to JOM, discounts on TMS publications and meeting fees, inclusion in, and access to, the TMS Membership Directory on TMS OnLine, plus an array of other personalized membership benefits and services.
Your membership card and new member packet, along with a postal card asking for additional vital information for our records, such as date of birth, education, and work experience, will be sent to you immediately after the meeting. Your associate membership will be activated upon completion of your registration form and payment of the nonmember meeting registration fee. If you have any questions, please contact the TMS Member Services Department at (724) 776-9000, ext. 213 or 215.
Advance registrants: Your 2000 TMS membership will be processed immediately upon receiving your registration payment. At the meeting, stop by the TMS Membership Desk to receive your free gift and enter our grand prize drawing.
On-site registrants: Proceed directly to the nonmember only registration area, where your form will be processed quickly. Receive your new member sticker on the spot; then stop by the TMS Membership Desk to receive your free gift and enter our grand prize drawing.
POLICIES
Registration Policy: All attendees and authors must register for the meeting. Nonmember authors may register at the special non-member author rate. Badges are required for admission to all technical sessions, the exhibition, and social functions.
Refund Policy: Written requests must be sent to TMS Meeting Services, 184 Thorn Hill Road, Warrendale, PA 15086. No refunds will be issued after February 18, 2000. A $50 processing fee will be charged on all cancellations.
Americans with Disabilities Act: TMS strongly supports the federal Americans with Disabilities Act (ADA) which prohibits discrimination against, and promotes public accessibility for those with disabilities. In support of and compliance with this Act, we ask that those requiring specific equipment or services as an attendee of the meeting, contact the TMS Meeting Services Department and advise of any specific requirements in advance.
Technical Sessions: Technical sessions will begin on Monday, March 13, 2000, and end on Thursday, March 16, 2000. Technical sessions will be held at the Opryland Hotel and Convention Center.
Audio/Video Recording Policy: TMS reserves the right to any audio and video reproduction of all presentations at every TMS-sponsored meeting. Recording of sessions (audio, video, still-photography, etc.) intended for personal use, distribution, publication, or copyright without the express written consent of TMS and the individual authors is strictly prohibited. Contact the TMS Technical Programming Department to obtain a copy of the waiver release form.
---
The information on this page is maintained by the TMS Meetings Department (mtgserv@tms.org).