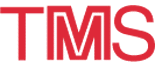 2000 TMS Annual Meeting: Exhibitor
---
March 12-16 · 2000 TMS ANNUAL MEETING · Nashville, Tennessee
---

BLASCH PRECISION CERAMICS

Booth #555

Albany, New York

---
Founded in 1979, BLASCH PRECISION CERAMICS manufactures complex refractory shapes via a patented injection molding process. Parts manufactured using this proprietary process have unique qualities that offer distinct advantages such as precise tolerances without machining ( +/-0.5%), excellent thermal shock resistance, controlled porosity, sub-particle distribution control, and outstanding resistance to spalling, erosion, and metal penetration.

In addition, parts intended for aluminum applications are treated with a proprietary non-wetting agent. So whether you need low pressure stalk tubes, rotary degassers, thermocouple protection tubes, porous plugs, or immersion heater tubes, Blasch can deliver.

A dedicated staff of engineers is always available to develop materials and design parts that satisfy specific customer needs. We welcome you to visit us at booth 555.

---